This Spring you are going to see some interesting changes coming to the Moscow Metro system.
Just yesterday the Metro announced that in order to drive sales of e-cards for Metro passes, riders who purchase passes with cash will pay an extra 2 Rubles per ride.  Instead of 28 Rubles, a cash ticket will cost 30 rubles while e-card rides remain at 28 Rubles each. The city says it is an experiment so we'll see if that lasts or is retracted. The rate of 28 Rubles was set on 1 January 2011, an increase of 2 Rubles from the previous year.
Next, at several stations today morning commuters were greeted with floor signs, a first for the Metro system. This is also an experiment and the Metro is asking riders to comment on the change to see if it makes navigating the Moscow Metro easier for residents and tourists alike.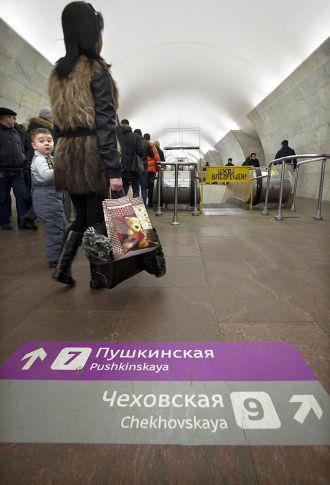 (Photo: Moscow Municipal Programs)
The signs are in Russian Cyrillic and in English. If the testing goes well the concept will be rolled out across the entire system. There are currently 188 stations in the Moscow Metro with several more scheduled to open this year.
The third and perhaps largest change is the map used by millions of riders and thousands of tourists. Over the years as the Metro has grown it has become increasingly difficult to publish a map that is concise yet at least somewhat correct in it's geography. For several years the Metro has used the prestigious Art Lebedev design studio to create maps for the Metro. This time the city commissioned the Lebedev studio to create a map with a flexible graphics system.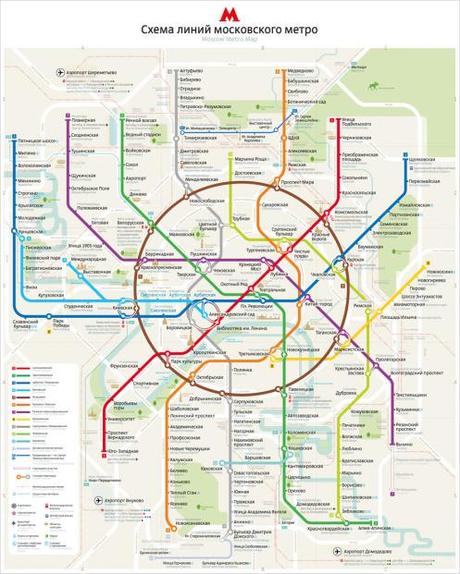 Called Metro Map 2.0 (the first version was released in 2010), and according to the Lebedev studio, "The second edition of the Moscow Metro Map from our studio carries almost twice as much information. We've put up a layer of all text in the Latin alphabet; highlighted metro stations with connection to the rail system platforms; added express buses and trains stops as well as metro-related parking; and marked rivers, airports, and handicap-accessible stations. The connection at Biblioteka Imeni Lenina station is finally represented with a circle."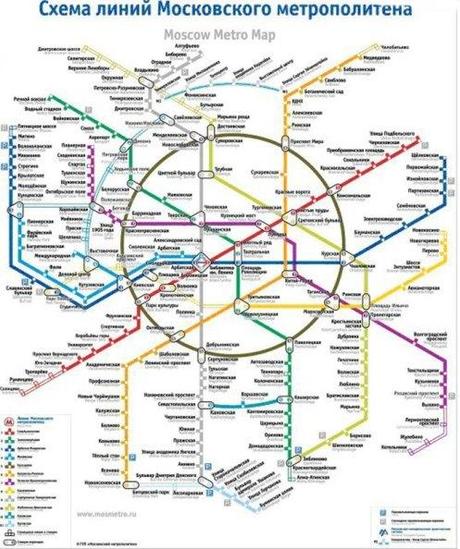 The Lebedev studio says that the project took almost four years to develop as they tried to create a new map that is recognizable, yet novel enough to be geographically accurate while at the same time satisfying both passengers' demands and design requirements. In their estimation, the final design is a flexible graphics system that allows creating a whole range of maps of various size and complexity.
To see the stations in relation to well known streets and landmarks, see the 2010 version below.  Double click on the photo for the largest size.