Today I have for you Diwali, from Chanel's pre-fall Paris-Bombay collection. Diwali is a light gold shade in a foil finish. Its particles reflect light quite well, and when applied it gives your nails a minx like effect.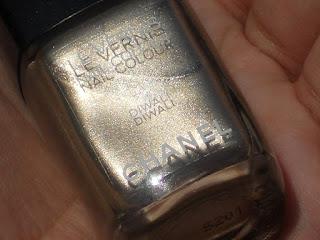 Diwali has a pretty good formula. I used two coats plus topcoat for the pictures below, and noted that the polish dried very quickly. The polish didn't streak at all and dried smoothly. I have to say, Diwali is a beautiful and elegant color.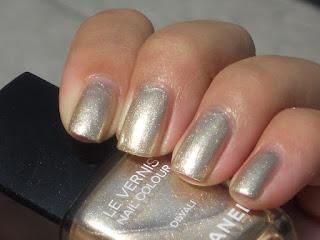 I can't capture the effect in a picture, but Diwali glows under the sun. It's definitely one of those colors that will garner a lot of attention.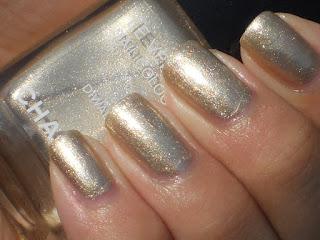 I like how the name of the polish fits with the brightness of the polish. During Diwali, the festival of the lights, rows of lamps are lit for days, commemorating this religious celebration.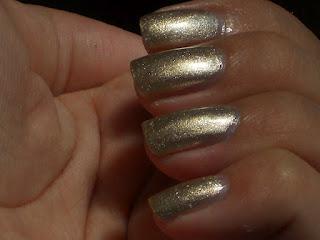 Above is a picture of Diwali taken with flash, which seems to demonstrate the brightness of the polish the best. The color of the polish is lighter than what is pictured in flash and non flash pictures. It looks like a gold version of Zoya Trixie or any other silver foil.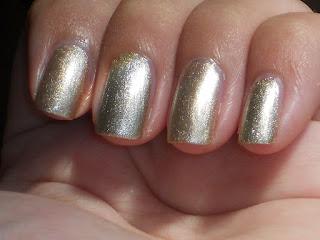 L to R: Chanel Diwali, Julep Sienna, Chanel Diwali, Julep Sienna

The only color I own that is similar to Diwali is Julep Sienna. Sienna, while also a light gold foil, has more silver in its color. It has smaller particles than Diwali, and thus looks smoother overall. Value wise, Sienna (retail $14 for .27oz) is less expensive per ounce, $51.85/oz to Diwali's (retail $30 for .4oz) $75/oz.
Even though it is a pretty color, Diwali is not an absolute must have, at least not for its hefty price tag. I'm sure that there are colors similar to it (like Sienna) at much more affordable prices. Diwali is however a limited edition color, so once it's gone, it's gone for good, so there's that to consider. Diwali is available online at chanel.com and at Chanel boutiques.