Being a mother is an amazing feeling which comes to women's mind as soon as she looks at those two pink lines. A blush on the face, feeling of holding a baby, emotions running with each cell in the body and goosebumps of happiness. This happens to every woman who enters the phase of motherhood. But, then at the same time, she needs guidance, support, special attention and warm care. Love and affection given by the husband and the family become more crucial in this phase. In spite of all the support that she gets, there is a constant worry in her mind since the day she conceives. I wish to do the best for my baby, I wish to give the best medical care to my child and I want the best doctor for this phase of mine. These thoughts are genuine and everyone feels the same. Here the search for right maternity care and the hospital began. I am thankful to Dr. Kishore Kumar visionary behind the name of Cloudnine Hospitals.
Cloudnine Hospitals started serving moms and babies since 2007. The Cloud nine hospital is a single specialty and the best maternity care hospital in Delhi NCR. It's one of the trusted hospitals and has heard many happy moms share their stories.
From the first milestone in the journey Dr. Kishore began from one hospital in Bangalore, with never looking back Now Cloud nine hospitals are in Chennai, Gurgaon, Mumbai, and Pune with a mission to bring most mom and baby care units across the country.
Cloud nine hospital as a highly qualified and well-experienced brigade of Doctors, Nurses and other medical and nonmedical staff. The hospital provides the best of care 24/7 in line with mom and baby care.
Preconception, Pregnancy, Maternity issues, Pediatric care, Fertility, Intensive care and Stem cell banking all under one roof. Cloudnine is trusted by 45000 mothers. The chain of hospital aims to provide a right guidance from the planning phase to during pregnancy and preparing for pregnancy till delivery.
The chain of hospital is envisioned to provide the best healthcare with its units like pregnancy care, Infertility care, Gynecological care, Neonatal care, Paediatric care, New Born Intensive care and High-Risk Pregnancy care.
Dr. Kishore added one more feather to his cap recently by launching Cloudnine hospital in beautiful city Chandigarh. Chandigarh is very well known for its design by Swiss-French modernist architect, Le Corbusier. Chandigarh is the capital of two North Indian States Punjab and Haryana.
The curtain raiser of Cloudnine hospital is done by none other than Mrs. Shilpa Shetty Kundra, A very well known Celebrity and a mother like us.
Here is the Glimpse of the launch of Cloudnine at Chandigarh.
Mrs. Shilpa Shetty Kundra the chief guest's arrival.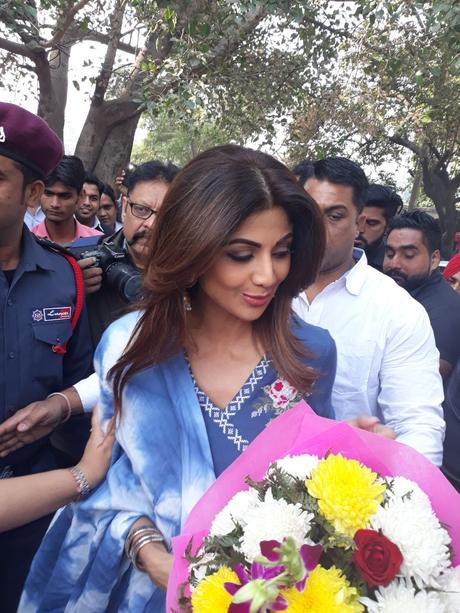 Inauguration and Ribbon Cutting
Welcome note by Dr. Pawan Kumar, Regional Director of the North, Cloudnine Hospitals
Unveiling of 'It's Our Baby' Programme
It's Our Baby Programme from Cloudnine is to prepare Expectant parents with their mutual partnership to prepare them with confidence to welcome the phase of early delivery, early motherhood, and newborn care. It aims to provide the elements in this programme in order to give the best care and experience from belly to baby.
It's Our baby Program cover's
Prenatal Workshop
Prenatal Fitness Sessions
Prenatal Nutrition Sessions
Baby Shower
Management of Baby Affairs
Lactation Sessions
Lamaze Sessions
Exclusive Photo Series + Pregnancy Photo Journal
Postnatal Fitness Assessment
Postnatal Dietary Counselling
Mrs. Shilpa Shetty Kundra's address and a lovely expression of Motherhood.
I am sure we mom's do the right and opt the right for our child. Many Miracles are recorded at Cloud nine Hospitals. Do read these miracle stories at click here.
Do share your thoughts and comments below. I would love to hear your experience of motherhood.
Here are some more writeups you may like.
Ways to boost fertility in women.
Planning a baby you must work on these as a couple.
Miracle food for breastfeeding moms