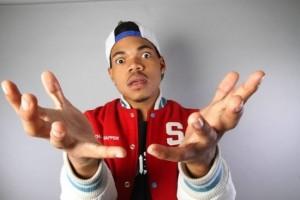 Over a sullen trip-hop beat, 19 year old Chicago phenom Chance the Rapper is reconciling indie rap sensibilities with more explicitly local fare. "Acid Rain," the latest from the young MC, showcases Chance's fairly idiosyncratic vocal style, as well as his capabilities as a lyricist. Backed by austere (though not unimpressive) production from Jake One, Chance proves more than capable of carrying a track on the basis of his voice alone.
Chance the Rapper has referred to Donald Glover (Childish Gambino) as a mentor, and the the comedian/rapper's influences are palpable, as are similarities (especially as far as vocal flow are concerned) to another actor-turned-rapper: Drake. But Chance is lyrically coming from another place entirely than the MCs he is stylistically most akin to, and there is a kind of casual intensity to every one of his verses; as though each one means the world to him. It is difficult being old enough to lament the missed opportunities of your youth, but too young to reasonably stop yourself from making the same mistakes, and Chance expresses this kind of conflict quite beautifully. His lyrics are direct and honest about some very heavy topics (the effects of drug abuse, violence); but they're just as honest and give just as much weight to something like missing grilled cheese sandwiches with the corners cut off.
"Acid Rain" is an ode to the things we lose as we get older, written and performed by a young rapper who is cynically and smartly aware that he still has a lot of growing up, and a lot of loss, to contend with.