1st May is celebrated as a Labour Day or Maharashtra Day and always synonym with a holiday. This day is etched in my heart not because it calls for yet another holiday but  sitting here far away from my home land I can only cherish this day as a day when I shifted to Bombay alongwith my mom and elder sis in the year 1997. The day holds back some great memories – the joy of seeing dad waiting at the station, journey in a hired car to a small one bedroom abode in the suburb, lunch at aunt's house, unpacking suitcases and cartons, stepping into the new house and beginning of a new journey in a city which opened many doors for me and also the windows for new flavors and dishes into my life. Food that was available in Bombay was slightly different from what I had for 12 years in Hyderabad though mom made sure she always infused flavors from our native land in our daily lives. Even the names of fruits and vegetables were in a wide contrast to what I was used to calling them earlier – onions or pyaaz known as kanda, potatoes or aloo known as bateta, musk melon known as shaker-teti and so on.  It took me quite a while to register these names and to make sure I pronounced them correctly to the vendors.
One of the best part of living in Bombay apart from so many which totally needs a (long) new post, was the street food. Kheema pav, mutton roti, chana bateta, vada pav, dahi puri, pani puri, sheekh kebab are just to name a few. One of the first street food that I tasted was chana bateta cooked by an old man in a small little shack just down the buliding in which I lived. And when I shifted to Dubai, this was what I missed miserably. The convenience of grabbing a quick street food snack in the evening was no more available and the taste was something that couldn't be recreated at home.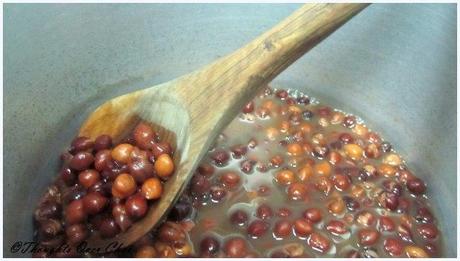 Chana bateta is typically famous in Bohri households. Don't ask me why, I won't be able to answer that but do ask me where you get the best? It's in the small lanes of Bhendi Bazaar on the thelas just outside the Bohri mosques. This dish would especially be rememebered in Ramadan, both by my husband who is a hard core bombayite and me. I also looked up for recipes for chana bateta on every day of Ramadan but couldn't find any that remotely resembled something that would be loved by us. One fine day, I thought of creating that very dish in my kitchen having no idea of how it is prepared. This is the recipe of Chana Bateta that I will be sharing today which has found a place in our hearts and have been loved by my family and also friends who ate it.
Chana = Black Gram
Bateta = Potato
Recipe for Chana Bateta :
Ingredients-
Chana or Black Gram – 2 cups soaked overnight
Onion – 3, finely chopped plus 1 chopped for garnishing
Tomatoes – 2, chopped
Potatoes – 2, peeled and cubed
Cooking oil – 2 tbsp
Curry Leaves – 6 to 8
Fenugreek Seeds – 1 tsp
Ginger Garlic Paste – 1 tbsp
Red Chilli Powder – 1 tbsp
Turmeric Powder – 1 tsp
Cumin Powder – 1 tbsp
Coriander powder – 1 tbsp
Gram Flour or Besan – 2 to 3 tbsp
Tamarind – 1 tbsp, soaked in 2 tbsp of water
Jaggery – 1 tsp
Salt to Taste
Coriander leaves – for garnishing.
Method -
Wash and soak chana in 2 cups of water overnight. Next day, drain the water and pressure cook the chana in about 3 cups of water for about 2 whistles. Chana should be soft to the bite and not get mashy. In a cooking pot, heat oil and splutter fenugreek seeds alongwith curry leaves. Add in 3 chopped onions and ginger garlic paste. Cook till translucent. Add in all the dried masala powders (chilli, turmeric, cumin and coriander) and cook for 2 mins till it starts to give nice fragrance. Add in chopped tomatoes and let the oil leave from the sides. When the tomatoes are mushy and soft, add in potatoes. Let the potatoes get half cooked which will take about 4-5 mins. Keep stirring so that they don't stick to the bottom of the pot. Stir in gram flour and let the smell for rawness in gram flour go. Now, add the boiled chana alongwith it's water to the pot. Stir continously. Gram flour will give a thicker consistency so adjust it by adding in more water if required. Add salt to taste. Cook on medium heat till the potatoes are cooked and required consistency is reached with lid closed but be sure of checking in between. Add in jaggery and tamarind pulp and give a nice stir. Serve it hot garnished with lots of chopped onion and coriander just like it is or with breads or buns.