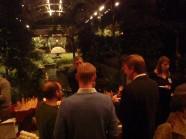 Tuesday night at Longwood Garden's Conservatory
This past week B Corps from across the country made the trek to beautiful Pennsylvania for the third annual B Corp Champions Retreat. On Tuesday night at the world-renowned Longwood Gardens, co-founder Bart Houlihan raised a toast to celebrate a good year for all. He reminded folks of the historical significance of the gardens which are rich with revolutionary history. The theme of independence and interdependence was echoed Wednesday night at the B Champions dinner held in the Independence Visitor's Center's ballroom overlooking the Liberty Bell and Independence Hall.  Jay Coen Gilbert called for a celebration of the community's achievements and gave thanks to the founding fathers in our own lives who led the way to a better kind of business. After dinner, the celebration continued as B Lab gave out awards for outstanding B Corp achievements.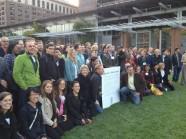 B Corps gather in front of Independence Hall to celebrate their Interdependence
A few highlights: To start off, the coveted 'Hal Taussig Award', given to an individual who captures the movement in all aspects of their life and work, went to Fred Keller from Cascade Engineering. Way to go Fred! For consistently raising the bar with their Impact Assessment scores, the 'B the Change Race to the Top Award' went to King Arthur Flour and Norwood Marble. This year's 'Most Inspirational Project Award' went to Yikes for their work in Fishtown Philadelphia and a huge thank you was given with the 'B2B Award for Delivering Value' which went to Ogden Publications, Sustainable Industries and Care2. Care2 connects their vast and active reader base with posts from B Lab's blog, which highlight members and achievements of the B Corp community. Fifteen 'I'm Just a Bill' awards were given to B Corps and individuals who have been working on the frontline to get benefit corporation legislation passed. (Six states so far!) Subsequently, two B Corps, Rivanna Natural Designs and The Big Bad Woof, took the 'Double Dip' award for having taken advantage of these policy changes. They are both certified B Corps and incorporated Benefit Corps.
Although over 60 awards were given out they only represent a tip in the iceberg of the phenomenal work B Corps do every day. B Lab would like to thank every champion of our community and hope to see all you next year.
Check out the complete list of the awards given. 2011 Champion Awards