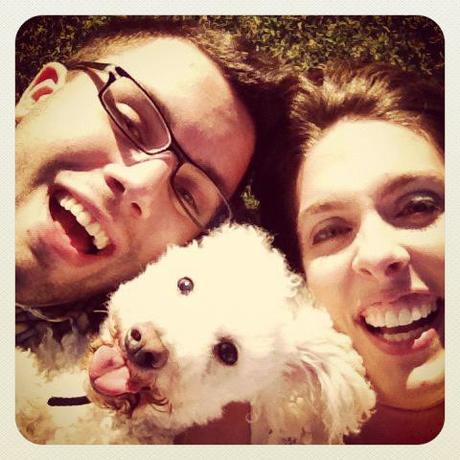 Family self portrait iPhone pic.
Some days I feel like chameleon. I can never really decide on a certain style that fits "me".  Some days I'm a put on my stilettos and strut it like a superstar in some fabulous dress that cost more than 1 week's paycheck straight out of college. Some days I'm a bum and want nothing but to lounge in my VS Pink sweatsuit without a stitch of make up on or hair combed kind of day.  Other days, I'm moody, or emotional, and just want to be hidden behind my sunglasses wearing all black or gray because, really, the color reflects how I'm feeling in that melancholy moment.
And on top of that, I'm now a wife and trying to figure out how to balance sharing my entire life with someone, good side/bad side/vulnerabilities and all, with this one person who accepts me for me, yet, some days, I don't even know who I am in this new role as his partner in life.  I admit, I have selfish days of reflecting of my single days of not wanting to worry about what someone else is having for dinner, or doing someone else's laundry or cleaning up after the shaven man hair stubble in the sink.  But then I remember he puts up with my long brown strands of hair I shed plastered to the shower wall, and my granny looking slippers that I'm sure remind him of something his actual granny used to wear (but gosh they are so soft on my toes!).
For 30 years, I only had to think about me, (and my toy poodle Rhett) and now my world consists of learning to think "we" instead of "I". He still catches me from time to time when out of habit "I" comes out instead of "we", and like a chameleon I'm learning to adapt in this new title called "wife" that I'm labeled as.  I love it and adore it and everytime I look at him, I think how he was so worth my 30 years of waiting, yet as I approach my 31st birthday on Christmas Day, I'm still not used to the whole new last name thing.  I keep telling him, it just feels like I'm borrowing it from him.  In the same way he needed his own log in to sign into our shared accounts on the internet instead of just using my already established accounts.  A part of me feels like I'm always signing in under his name when I write checks or sign receipts.  It's just weird to go from 30 years of being one name, to now suddenly adapting and taking on a whole new name the way a chameleon does as it walks across new territory.
But then he looks at me and smiles and pulls me close with his embrace that always melts my heart… and I realize, change can be a beautiful thing.