Summer is officially making its way to Dubai as the days keep getting longer and hotter. As the season approach, I take shelter in my iced tea glasses for they are cooling and satiate my cravings for tea during the hot days. I have always adored the art of brewing a pot of tea – not too much nor too little and love to keep a close watch as it starts to bubble. What I usually do is mix and infuse thirst-quenching iced tea with my usual chai spice – cinnamon, ginger, mint and lemon, laced with drops of mint and lots of crushed ice.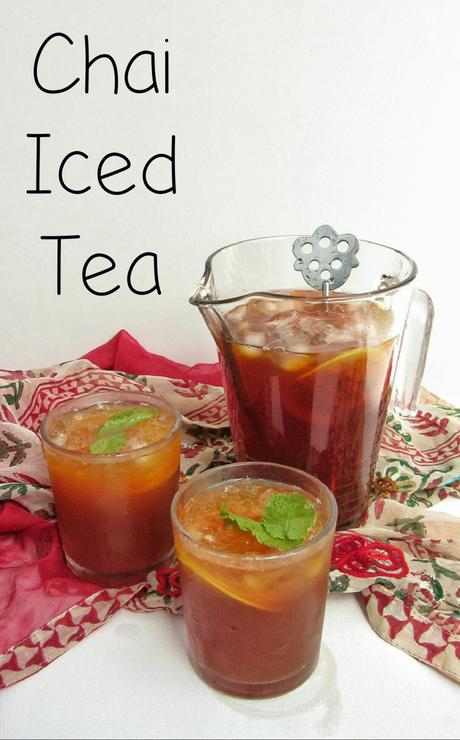 Iced Tea is one of my favorite ways to escape the heat of Dubai as it is refreshing and also makes for the best chilled drink to serve guests. That is one of the reasons I always have a pitcher in my refrigerator ready. What I like about iced teas are that you can change the flavor as you please. If on a particular day I don't like it with the spices or want a change, I swap with matcha, fruity concoctions, citrus, herbs or go Thai with creamy layer of coconut milk and condensed milk. As you see, there is no limit on the flavors you can try and once you get hold of making a perfect iced tea, you'd learn how to suit your taste from different options.
This recipe is super easy to make from scratch. However, go through a few important points to consider while making iced tea at home –
don't oversteep tea or tea bags.
always add sugar when brewing the tea so it dissolves well.
chill in the refrigerator for atleast 4 hours before serving; but remember not to put hot tea into the fridge directly. Cooling the tea before chilling is the main key to an energizing and great tasting iced tea.
try to consume within 3 days instead of storing it for a week or so.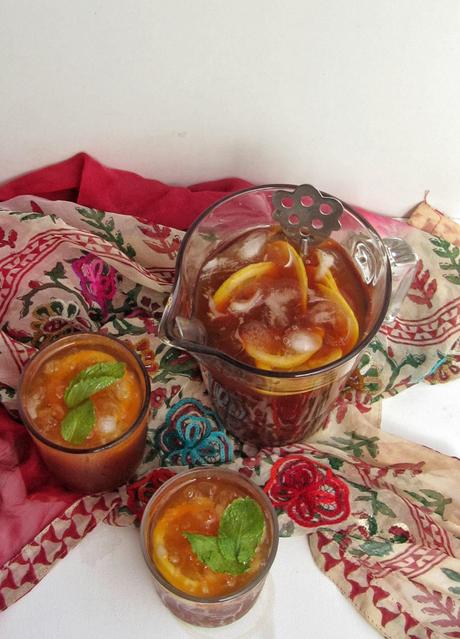 Chai Iced Tea
Ingredients :
(makes 6 glasses)
Tea bags – 4
 Cinnamon – 1 stick
Mint – few leaves
Ginger – 1 inch, grated
Lemon – 2. cut into thin slices
Sugar – 3 tsp (add more if you like it sweeter)
Water – 7 cups
Method:
Bring water, cinnamon, mint, ginger, sugar and lemon slices to a boil. Add tea bags and brew for not more than 4 mins.
Strain and cool at room temperature.
Transfer to the refrigerator for couple of hours until chilled and the flavors set in.
In serving glasses, add crushed ice and lemon slices. Pour tea concoction over it and serve.