We've had some serious Fall weather this week.  Threats of snow (which did not appear, except at higher elevations). Overnight temps around 30 degrees.  Daytime highs in the 40s.
And all that does is make me want to curl up on the sofa, watch a good bad movie and drink Chai Tea (also called Yogi Tea).
The thing about chai tea is that it not only makes the house smell delicious while it's brewing (I love the smell of cardamom … it's "like totally tripendicular, you know?" – what movie?), but the combination of spices (cloves, ginger, cinnamon, cardamom) also happens to be good for blood detoxification and circulation, detoxing the colon, settling the nervous system and strengthening the bones.  It's good for colds, flu and general fatigue …
Basically, the ingredients in Yogi Tea are PERFECT for Fall weather blues and the onset of cold and flu season.
Then I made a promise to bring treats to a playdate we have with friends today … realizing later that at least two of the kiddos have grain, dairy and egg allergies.
I thought about making those paleo-yam brownies that I make for camping … but had no cocoa in the house.  And they have eggs in them.
I also have a recipe for raw-vegan-date-sour cherry-chocolate bites that might have fit the bill.
And Abby's got a recipe for grain-free cookies from her sister-in-law Lores that is out of this world.  But it calls for almond flour and I wasn't sure if any of the kids had nut allergies … and there is chocolate in them.
Again … no chocolate.  And no sour cherries.  And they have to be frozen, and I don't want to eat frozen treats in 40 degree rainy weather.
But I did have all the spices for chai.  And I had bananas and shredded coconut (which are featured prominently in the date-sour cherry-chocolate bites).  And a few sweet potatoes.
So, armed with chai spice, bananas, sweet potatoes, a little coconut flour and a  food processor … I started experimenting.  Just two batches later … nourishing, refined-sugar-free, grain-free, egg-free, dairy-free goodness.  (I wasn't sure about nut-allergies, so I didn't put any in for this batch.  I might add some chopped almonds or walnuts or pecans next time … just to mix things up and add a little depth to the texture.)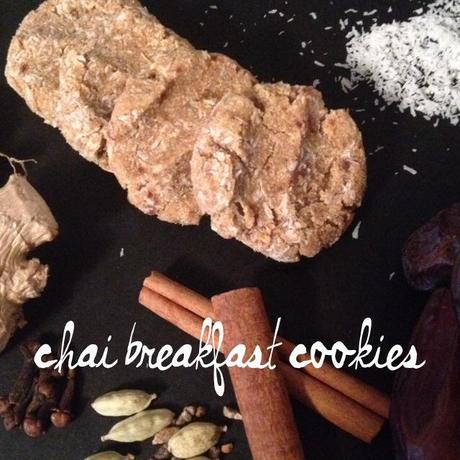 INGREDIENTS:
2 ripe bananas
1 large baked sweet potato (peeled)
5-6 sweet Mejool dates (pitted and course chopped)
1 teaspoon apple cider vinegar
1/2 cup coconut flour
1 teaspoon baking soda
1/2 teaspoon sea salt
1 heaping teaspoon cinnamon
1/2 teaspoon cardamom
1/4 teaspoon ginger
1/4 teaspoon cloves
1/2 cup shredded unsweetened coconut
DIRECTIONS:
Preheat the oven to 350 degrees.
In a food processor or high speed blender, combine the bananas, sweet potato, dates and ACV and pulse until well mashed and combined.
Add the coconut flour, baking soda, sea salt, cinnamon, cardamom, ginger and cloves.  Pulse again until a sticky dough ball forms.
In a large bowl, gently fold the shredded coconut into the dough.
Scoop heaping teaspoon size balls onto a parchment lined cookie sheet.  Press them down just a bit as these cookies aren't going to spread in the oven.
Bake for 25-30 minutes.  (NOTE:  after about 12 minutes, I swapped the cookie sheets to protect the bottoms from burning … nobody likes a burnt cookie bottom.)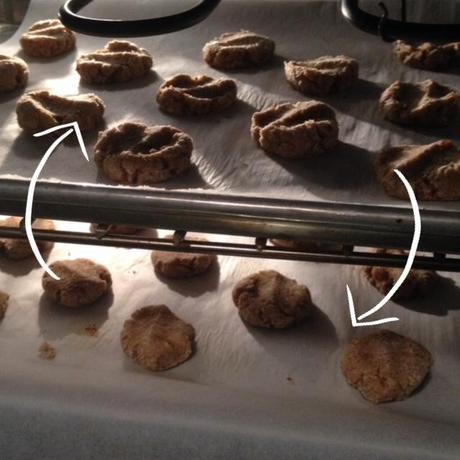 Let cool on the cookie sheet for 5-10 minutes before transferring to wire rack to finish cooling completely before storing.  Not sure yet how long they'll last in the fridge, but I'm guessing a few days.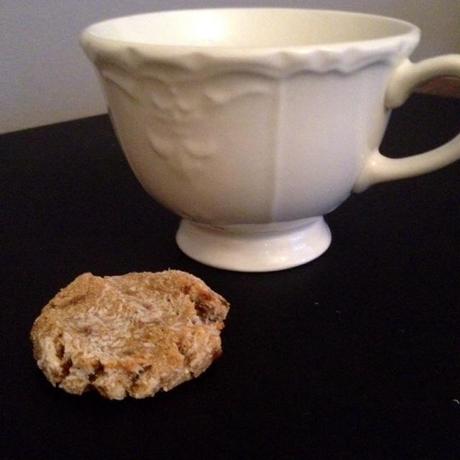 We'll be lucky if there are any left by the time we head to the playdate.
xo,
Jeanne