We had a chance to chat with Chad Brownlee a couple days before he hit the road on his first Headlining Tour When The Lights Go Down with support acts Jess Moskaluke and Bobby Wills. If you have been following our coverage of the tour you have already had a chance to read our previous 2 interviews. Here is the final of the 3 the big cheese himself Mr. Chad Brownlee.
Sound Check: Chad thanks for taking the time to chat today, your gearing up for a big one a 26 date tour in 30 days. Pretty ambishes I would think. Maybe tell us how this all came together last fall.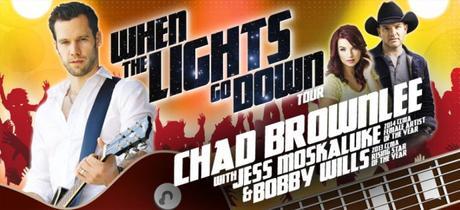 Chad: Well I have been with MDM Recordings since day one pretty much and we figured that Jess Moskaluke and Bobby Wills would be a good fit as openers for this tour. Both have done so well early on in their careers with Jess coming off a Gold record with Cheap Wine and Bobby having the CCMA New Artist's nomination last year. I have to say I am pretty lucky to have these two opening the show.
Sound Check: Usually artists when starting out usually get stuck playing some opening gig slots but you have been pretty fortunate the last couple years with some co-headlining tours.
Chad: I have done a couple of those specifically last year with Jason Blaine and Derek Ruttan on the Your Town Throwdown Tour. And the year before that with the Boys of Fall Tour with Dallas Smith and Tim Hicks. So it was actually a great way to kind of break me into the cross Canada touring scene with guys like Dallas who spent 8 years in the rock world so that wasn't his first rodeo and he has become a really good friend of mine. So learning from him and Deric Ruttan he has done a few as well so, it's nice to be alongside of those guys so if something goes wrong you can blame it on them. (Says with a chuckle).
Sound Check: So, 2014 and so far in 2015 have been good to you in Canada. Do you have any plans to try and tackle the US market in the remainder of 2015 or early 2016?
Chad: Ya, I don't think there is a timeline set on it. I think we are going to know when the time is right. We did our first US shows last spring and summer with Country Thunder in Arizona and Twin Lakes Wisconsin and did the State Fair in Minnesota. So we have slowly started to filter down there live performance wise. And we also released a single down in Australia. We are starting to branch out a little bit and but taking our time and making sure we make the right decision when the time is right.
Sound Check: You're pretty active on Social Media and on a Tour like this how do you think Social Media plays into the fan interaction?
Chad: Social Media is a great tool in today's day and age to stay connected to your fans. To have them be a part of your journey, because they really are a huge part of your success without them we really would have no career what so ever. Just the simple fact to be able to say thank you after every show or capture certain moments of the tour is so valuable. I have this Love / Hate relationship with my phone. I love the fact that I can be connected to the fans and if there is anything new coming up you can get it to them in an instant. The best part though is getting their feedback, if you want to make music and adhere to the fans you need to understand their voice. It's not just my voice going to them it's also their voice coming back and I just think that is just so vital.
Sound Check: Let's turn our attention to song writing. Something you're very familiar with. I am sure back in the hockey days that you spent a lot of off ice time writing maybe tell us about your song writing experiences.
Chad: When I first started writing it was just me by myself it was pretty much just a musical journal. I wrote my first song in my dorm room at Minnesota State when I was playing hockey at 19 years old. I just kept doing it from there. It was defiantly a musical journal. It was me sometimes venting or expressing myself in a different way. At the time I didn't think I was going to be making a career of it until I made that shift from hockey to music. When I first got in the room with other co-writers it just opened up this whole new world for me. It's just so great to be inspired by other people in the room. They throw out ideas and it gives you more ideas. I was just so amazed by the product that we come out with by the end of it. It's one of my favorite things to do now, to sit down with other people and just share ideas. If you come out of the end of the session with a song it's just the most fulfilling feeling and you feel like if anything else happens the rest of the day it's just a bonus. I do enjoy the song writing process, and I have been really lucky to be connected with some great writers that have become really good friends of mine. And we have made some albums that I am really proud of in the past.
Sound Check: I was fortunate enough to talk with one of your co-writers on the Fighters album Erik Dylan and he is a great song writer. Maybe touch on working with likes of Erik, Ashley and Mitch?
Chad: Erik Dylan is a true talent and he has become a good friend of mine to. We have written some great songs together the title track of my last album The Fighters we wrote together along with Mitch Merrit who is my guitar player and manager and we do a ton of writing together. Erik is the kind of guy that when I am down in Nashville that we always hook up with and we even had him up at our place up in BC for a weekend to write and there might be a few songs from that you might see in the future. It's so nice to even learn from guys like that and see how they tick and how they approach the song writing process.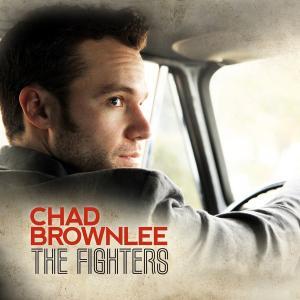 Sound Check: So speaking with some artists about the writing process and some have mentioned some distaste for the current radio songs that are more "Bro-Country" than about the real meaningful country song. How do you feel about writing about writing something that the label wants you to write compared to something that has more meaning to you?
Chad: That's a really good question, I think as a song writer and as an artist you have this authenticity to you. You have this voice and there are certain things you want to articulate through that voice and when that's kind of stifled you can defiantly feel a bit of frustration or a bit of a creative block when there is a push for you to be something other than that. It is uncomfortable to be outside of that authenticity. I understand there is a place for like you said "Bro-Country" and those types of songs. I do believe there is a place for them but I would also like to say I like to eat Mac & Cheese but I don't like to eat it every day for dinner. It's nice to have a variety of music and topics and I don't think we should be limited to one sound just because it's working. There needs to be an embrace for the different styles and artistic merits. I see where those artist are coming from but I think as we speak the genre is evolving and I think we are going to see sooner rather than later a transition with music with a bit more substance and weight to it coming.
Sound Check: That being said do you see a difference between what the Canadian song writing vs. what the US artists are writing about?
Chad: You know what, I think the lines are pretty blurred. Because there is a lot of collaboration between the Canadians and Americans. But if it was up to me I would just get rid of all borders because at the end of the day we are all people and there really is some amazing music coming out of Canada right now. Whether it's the artist just singing a song written by a Canadian or performing a song they have written it's really tough to tell they stand up against each other very well.
Sound Check: Your touring with Jess Moskaluke who has done an outstanding job of getting heard south of the border is there any other woman that you have worked with here at home or down in Nashville that you hope to see have similar success.
Chad: Jess has done some great things, I guess she was the first Canadian female country artist to go gold since Shania Twain so I would agree she has defiantly shaken up the country world. There are just so many great Canadian Artists right now just not women either. I know I mentioned Dallas before but he is having a hell of a ride and then I know I will miss some but Tim Hicks, Brett Kissel and Bobby Wills to name a couple but really the list is pretty big right now for good Canadian country music.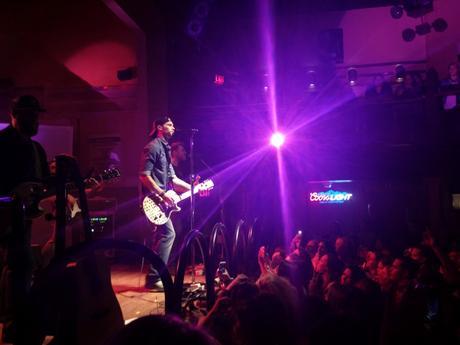 Sound Check: Who is on your Bucket List for people to work with?
Chad: Funny my brain always freezes when I have to think of specific names so I will give you a more general answer which is likely more truthful. I love collaborating with new people all the time it doesn't matter who they are. Whether they are a prolific writer or someone just starting out you never know where you're going to find inspiration. Obviously you want to get into a room with talented people because they say if you're the most talented person in the room you're in the wrong room. You have to surround yourself with great people. We are constantly branching out and finding new people to write with and I am sure there will be lots new people I will be touring with later on down the road.
Sound Check: Your buddy Dallas Smith did a CMT special a couple months back called the CMT Hit Exchange with Tom Cochrane. Is there anyone you could think of that you would like to do something like that with?
Chad: Well I am a little upset with Dallas, because Tom Cochrane would have defiantly been on my list. He has such great music and is a true Canadian Icon. But that was such a great merger of artists between the two of them. That's a tough question, but I am thinking a big scale right now but to collaborate with a John Mayer or Daughtry somebody like that would be pretty cool. Eddie Vedder he is one of the guys I grew up trying to emulate when I was singing along to Pearl Jam and he definitely inspired me at an early age.
And that wraps with our chat with the "Big Cheese" on the When The Lights Go Down Tour. If you don't have tickets yet you better hurry because this is one great night of music. Toronto tonight is your chance to drink some Green Beer and party with Chad, Jess & Bobby at the Mod Club and Western Canada they are comin' be ready!
Corey Kelly / @CoreyKelly76
For more on Chad or the When the Lights Go Down Tour check the links below.
Chad Brownlee Website
Chad Brownlee Facebook
Chad Brownlee Twitter
When The Lights Go Down Tour Website

Well if your reading this you must really be bored... So I was born and raised in a small town and have a thirst for good Canadian Whiskey.