We continue the countdown to the release of Chad Brownlee's new album Hearts On Fire (April 29th). Here is one of Chad's hits that had little turbulence on the charts and features a cool guitarist on the back of a plane. Here is Fallin' Over You that Chad released back in 2014.
Corey Kelly / @CoreyKelly76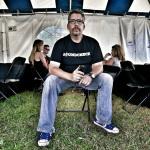 Born and raised in small ltown Ontario, Love me some Whisky & Country Music. Blogger, Photographer and Country Music Junkie.