Throughout the past couple of seasons, something must have been on Cesc Fabregas's mind every time he pulled on his Arsenal jersey. His adoration for Arsenal was slowly shifting into a deep homesickness for Barcelona. His past season at Arsenal wasn't his best, as he was probably thinking about playing with Xavi, Iniesta and Messi at Barcelona. Now, he has finally returned to the Spanish and European champions, banishing whatever dark thoughts there were which were haunting him at Arsenal before.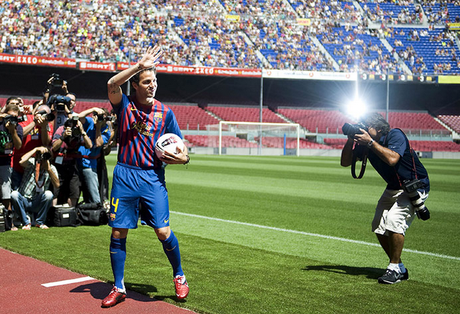 Cesc Fabregas, quite the happy camper at Barcelona
Barcelona and Arsenal have agreed the fee for the 24 year-old Spaniard, and it gravitates around 40 million Euros. Of course, if certain bonuses are met, then we could see the Catalans having to dish out an additional 15 million Euros for Fabregas.
Now that Barcelona have assembled their perfect midfield, Arsenal's has now become questionable. Nasri could also be leaving the Gunners, leaving a creative hole which might need to be replaced. But Arsene Wenger isn't worried about the loss of one of his greatest players:
"We fought to keep him but in the end we have to respect the desire of the player as well. This Club is 125 years-old this season and many big players left and yet the Club went on. We want to show that we have the strengths and unity to fight as we ever did at this Club."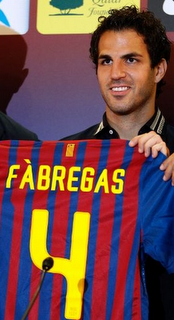 The strange thing is, I slightly agree with him. With or without Fabregas, Arsenal would accomplish the same things in this new season. But the question remains now, can Wenger sign a player who will help Arsenal overachieve? Probably not.
It might sound strange, but a player Wenger should be signing is Inter Milan's Wesley Sneijder. He'd be stealing the Dutch playmaker from Manchester United, he'd be replacing Fabregas, and he'd get a player who knows how to shoot the ball from outside the box. Sneijder would strengthen the side notably, and his constant thirst for trophies could only help Arsenal in their struggle for silverware.
Whether Wenger will spend much money this summer is still a mystery to me, but what is certain is that he will be preparing Arsenal to face Udinese tomorrow night. The Champions League qualifier is a defining game for Arsenal's season, and the pressure to get through is all on the Gunners. The first leg of the qualifier is at the Emirates tomorrow, with the second leg being in the Stadio Friuli in Udine.
What are your thoughts on the Fabregas transfer? Who should Arsenal sign? Can Wenger defeat Udinese in the Champions League qualifier? Leave your comments below!