Rajesh Khanna - Dimple Kapadia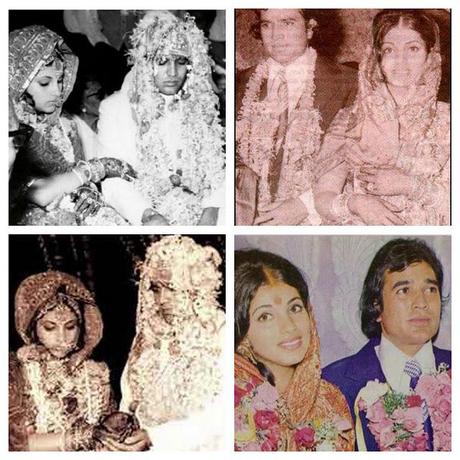 One of the most glamorous faces that the Indian film industry has seen,
Dimple Kapadia
tied knot with the then Superstar of Indian Cinema,
Rajesh Khanna
in a private ceremony in March 1973. Dimple was not 16 yet, and Rajesh Khanna had still not seen a flop. Destiny, of course had some other plans. Though the couple have two daughters out of the wedlock, Rajesh Khanna's career saw a steep downfall post marriage, and the marriage too failed. The couple separated, and remained so until Rajesh Khanna's death in 2012. This is a sneak peak of their wedding and reception day. Ain't Dimple making a very  beautiful bride.
Amitabh Bachchan-Jaya Bahaduri & Abhishek Bachchan-Aishwarya Rai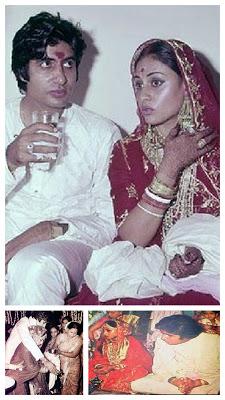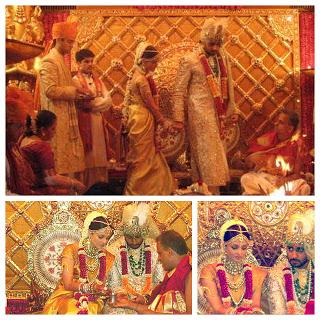 Bachchans across the generations -
Amitabh Bachchan
and
Jaya Bahaduri
tied the knot on June 3, 1973. In the picture, you see the traditions of a traditional Hindi wedding, with Jaya looking a just-right, non-glamorous, yet very radiant bride. Though Amitabh Bachhan was linked with several of his co-stars, not to forget his many years long relationship with
Rekha
, the marriage stands strong as a rock till date.
To the right is a snapshot of their son,
Abhishek Bachchan
getting wed to India's first Miss World
Aishwarya Rai
some 34 years later, on April 20, 2007. The media attention the pair had by this time was full blown, and the tabloids played every nitty-gritty detail pertaining to the wedding for months altogether.
Dharmendra - Hema Malini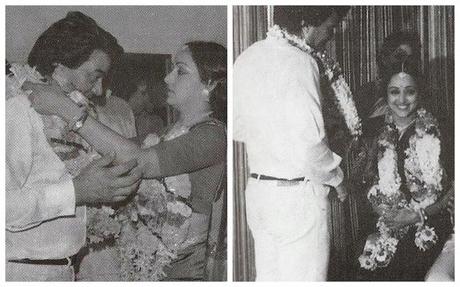 On May 2, 1980,
Hema Malini
created history. Despite being India's dream girl, she married
Dharamendra
, 20 years her senior, legally married, and father to two young sons. Rumour has it that his first wife's brother tried to shoot him immediately after he wed Hema. The couple have two daughters out of the wedlock, but the situation seemed very ironic when some years earlier, Dharamendra declared that he was legally married to only one woman, which is Prakash Kaur
(first wife).
Ajay Devgan - Kajol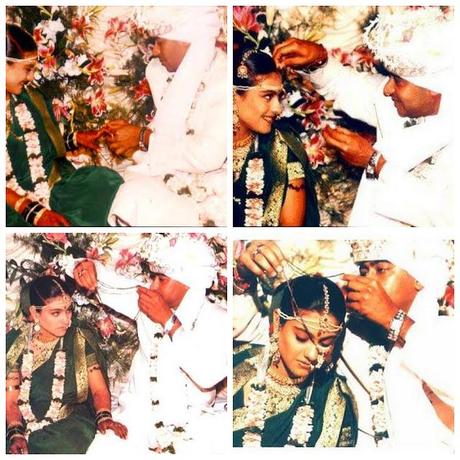 On February 24, 2009, at the peak of her career as an actress,
Kajol
married
Ajay Devgan
, her long time fiancee. Huge criticism followed, not only because the two had contrasting personalities, but had a very stark difference in the kind of fan following each had. The pair has, since then, been going strong in their life with each other, proving everyone wrong. Dressed as a Maharashtrian bride, I fell in love with Kajol's simple look for her d-day, specially her choice of color away from the red family.
Rishi Kapoor - Neetu Singh & The Saifeena Wedding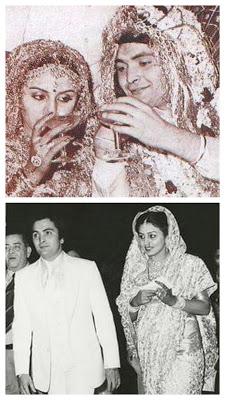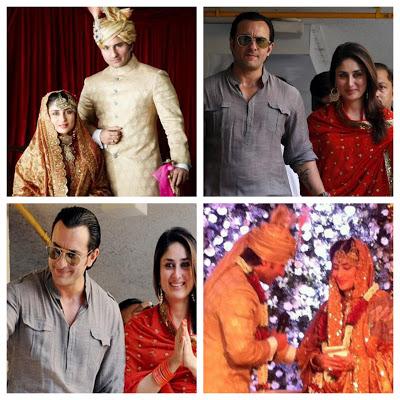 Neetu Singh and Rishi Kapoor are seen on their wedding, held on January 22, 1980. 32 years later, Rishi Kapoor's niece
Kareena Kapoor
tied knot with the Nawab of Pataudi, and actor
Saif Ali Khan
. Kareena Kapoor is one of the most glamorous and successful actress in Bollywood today. Saif is ten years her senior, and this is his second marriage. He was previously married to
Amrita Singh
, and has two children out of his first marriage. Largely criticized by the media, the Saifeena wedding was held on October 16, 2012, and a closely guarded event. Because the marriage was inter-religion, the two had a registered marriage first, followed by a reception and a ceremonial
nikah
. In the picture, you see Kareena and Saif after the registered wedding and Saif saying his wows to Kareena during the Nikaah. Kareena is wearing Saif's heirloom gharara
(his grandmother's)
for the nikah.
October was all about the Saifeena (aka Saif and Kareena) wedding before the loss of Yash Chopra and Jaspal Bhatti was seen. I could not do a post on the Saifeena wedding in time, so thought to make up giving a full blown post on many celebrity weddings, this time there is a bonus bullet, as we covered sixx plus one weddings in the feature.Also, with this post, AllThingsSixx enters into its third month. Yayy!P.S. - The information provided in this post has been sourced from all over the world wide web with the help of Google. Though I have made quite some effort to ensure that the information is correct, please let me know in case you find a discrepancy, and I will be happy to make any corrections.