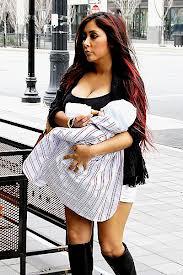 This weekend turned out to be the most joy-filled days of her life, when Snooki gave birth to her first baby. Lorenzo Dominic LaValle, who weighed 6lbs, 5 oz. was born on Sunday across the country in Livingston, New Jersey. Snooki's fiance, Jionni LaValle, was with her.
The 'Jersey Shore' star has taken to Twitter to tweet regarding … everything.
"Being a mom is an amazing feeling!!!" she tweeted saying little Enzo is "My World". And "I love my little man to death! Jionni is such a cute dad."
"Post birth isn't so comfy and glamorous. But my son is FABULOUS," she further commented.
Snooki also conveyed her thankfulness to all those who have sent her congratulatory messages, including everyone and not just restricted to MTV's Jersey Shore cast.
"Thank you all for your love and support!! Lorenzo loves all you guys already!" she wrote … while trying to get a quality sound sleep.
"Hardly any sleep but SO worth it!" she remarked.
Also not that her pregnancy ended without any benefits. "I'm finally able to eat eggs again!" Snooki wrote. "While I was pregnant I couldn't even smell them! Now I'm killing it with egg whites!!!"
Snooki, 24, and LaValle, 25, announced their engagement and their baby earlier this year in March.
Jionni had proposed to Snooki with a 5-ct princess cut diamond engagement rings featuring an eternity band encrusted with 2-ct diamonds and a 3.02-carat princess-cut diamond in the middle by B&B Jewelry in Wayne, New Jersey.
The pregnancy has been documented on "Snooki & Jwoww" and will be featured on "Jersey Shore" when its new season begins in October.
Congrats to the reality star Nicole 'Snooki' Polizzi and fiance Jionni LaValle!!!