I am told that Las Vegas issues approximately 120,000 marriage licenses a year. That's quite a lot of people walking down quite a lot of aisles, so it stands to reason that some of them will be celebrities. Possibly the most famous would be Elvis Presley and Priscilla Anne Beaulieu in 1967, but there have been plenty more celebrity unions in Las Vegas since then.
Frank Sinatra and Mia Farrow:
Another of Las Vegas' very famous residents, Frank Sinatra, aged 50 at the time, married a much younger Mia Farrow, then 21. They married in a private ceremony at the Sands on July 19 1966. Unfortunately their union only lasted two years, Mia was served with divorce papers in front of everyone on the set of "Rosemary's Baby," and the divorce was finalized in 1968.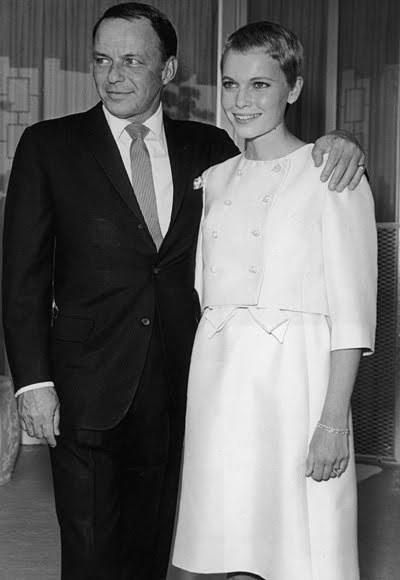 Richard Gere and Cindy Crawford:
The Hollywood super-couple married in the Little Church of the West on the Strip in 1991. Their marriage was always overshadowed by rumours that Richard was gay. They divorced in 1995.
Billy Bob Thornton and Angelina Jolie:
In the days before she met Brad Pitt and became half of "Brangelina", when she was just 24, Angelina Jolie married Billy Bob Thornton, 20 years her senior. This was back in May 2000, not long after she got her prominent "Billy Bob" tattoo. Angelina was marrying for the second time, Billy Bob for the fifth. They married in jeans at the lovely Little Church of the West at the South end of the Strip. Both of them were doing crazy-in-love things at the time, such as wearing vials of each other's blood around their necks. The marriage lasted until 2003.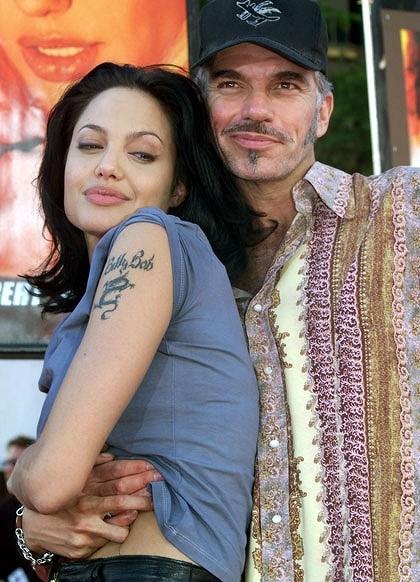 Jon Bon Jovi and Dorothea Hurley:
The Bon Jovi frontman married his sweatheart back in 1989 at the Graceland Wedding Chapel. I am pleased to report that they are still together and have two children.
Ross Geller and Rachel Green:
OK, OK, they're not real people, but super-popular Friends characters, the on-again off-again couples Ross and Rachel had a hilarious drunken wedding at a fictional Las Vegas Chapel. Monica and Chandler were together at the time, and had been rolling died to decide whether they should have a wedding. Fans were thrilled to see them finally get married, even though it did end in divorce, the third for Ross.
Noel Gallagher and Meg Mathews:
Oasis' Noel married his bride at the Little Church of the West with an Elvis impersonator. In a nod to Oasis' greatest influencers, Beatles music was played quietly on a piano during the ceremony.
Britney Spears and Jason Allen Alexander:
The pop singer was in Vegas for New Year's '03/'04 back when she was 22. She decided to extend the party by marrying her childhood friend, Jason Allen Alexander at the Little White Wedding Chapel in early January. She didn't go for traditional wedding attire in choosing a baseball cap, jeans and a t-shirt, and a hotel bellman walked her down the aisle. This marriage famously ended a 55 hours later.
Axl Rose and Erin Everly:
After a proposal of "marry me or I'll kill myself" by Guns 'N' Roses front man Axl Rose, lucky for him, Erin agreed. She was reported to be his inspiration for his song "Sweet Child O' Mine". They married on April 28, 1990 at Cupid's Wedding Chapel. Just three weeks afterwards, Axl filed for divorce, soon after that they reconciled only to get annulled less than a year later.
Andre Agassi and Steffi Graf:
This is not the typical union you expect from a Las Vegas wedding, but Vegas born-and-bred Andre married tennis champion Steffi Graf in a private ceremony in their Las Vegas home. They still live in Las Vegas now with their two children.
Mike Tyson and Lakiha Spicer:
High profile boxing champion Mike married his girlfriend and mother of his two children, Lakiha, who lived in Henderson, just outside of Vegas in 2009. His third marriage, they had their ceremony at La Bella Wedding Chapel.
Sinead O' Connor and her therapist, Barry Herridge:
The couple got married in the back of a pink Cadillac at the Little White Chapel in Vegas, her fourth marriage. Seventeen days later, ex-nun Sinead announced their marriage ended, then some time after that she announced they were reunited.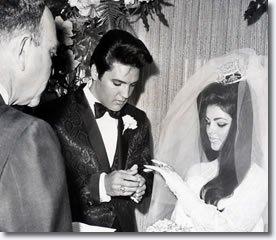 Elvis Presley and Priscilla Anne Beaulieu:
Last but certainly not least, when Elvis was 32 and reportedly the highest-salaried entertainer in the world, he married Priscilla Anne Beaulieu, who was 21. They had their ceremony at the Aladdin Hotel at 9am in a quiet ceremony in the hotel owner's suite.
For more information on planning your Las Vegas wedding, email Claire or visit her website. For updates, "like" the Las Vegas Bridesmaid page on Facebook.