There are 35 million adults in the United States who suffer from bladder problems, according to the National Association for Continence (NAFC). Bladder issues may include urinary incontinence, pelvic organ prolapse (POP) disorders, chronic bladder infections, among many others.
If you experience bladder problems, November is your month and this is your week. During National Bladder Health Awareness Month and National Bladder Health Week (Nov. 10-14), the people at NAFC aim to bring awareness to bladder health issues and encourage people to take control of their own bladder health.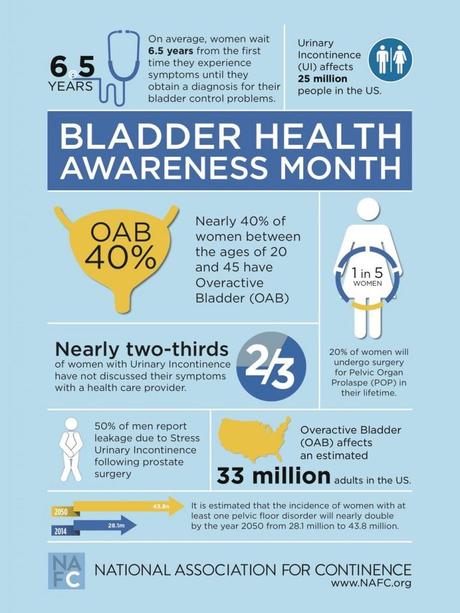 NAFC has completely updated their website with free educational resources packed with information on the different types of bladder conditions and tips on how to manage and treat them. There is also a new message board designed to connect people with bladder issues to others with similar problems. The organization even provided a free infographic (see above) and sample Facebook posts, Twitter updates and email announcements for the public to take part in this event.
Raising awareness of bladder health conditions, especially urinary incontinence, is very important as symptoms often go unreported and therefore untreated. Many people wait years until they finally contact their doctor. This means years of rejecting invitations to go out, hiding for fear or accidental leaks, and feeling lonely, embarrassed and hopeless. If you or someone you know has a bladder condition, seek medical attention and start a conversation. Although common, bladder conditions are usually treatable and bladder control can be restored. Urinary incontinence can often be treated with non-surgical treatments such as bladder retraining and kegel exercises.