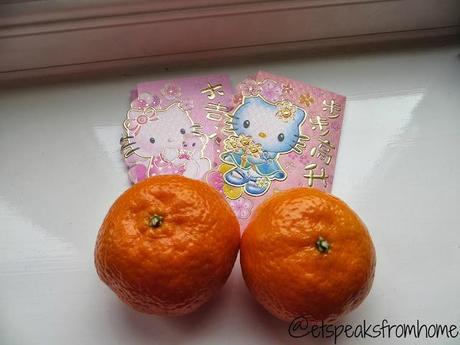 Mandarin oranges play a major part in our Chinese New Year.  It's to do with way we pronounce the word, it sounds like fortune.  Chinese people love to say only good words on Chinese New Year as it will bring them all the luck and fortune for the coming new year.We also believe everything comes in twos.  So on the first day of Chinese New Year, the youngster will present two Mandarins and say Gong Xi Fa Cai (恭喜發財) to the elderly and married couples for an exchange of Ang Bao/Pow.  Normally, our parents would keep our Ang Bao/Pow 'safe' and deposit the cash in the bank.  The first time I was allowed to keep my first Ang Bao money was when I was about 10 years old and I was able to use the money to buy my favorite things!  I remember I bought a $200 watch (in Singapore Dollars) endorsed by Andy Lau.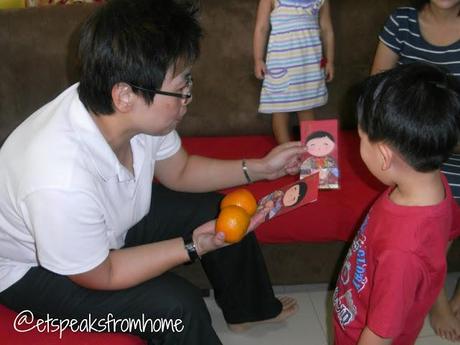 Some families will also buy a Mandarin plant to display inside or outside the house.  Each year, my mom will be the first few to rush to the garden center to purchase one without fail.  She does not like to wait in case all the nice plants are gone!  She will then place the plant at the most auspicious place according to that year's feng shui.  She will then count the number of mandarins on the plant and use that number to buy TOTO or 4D (4 digits).  TOTO and 4D are similar to Lottery in UK.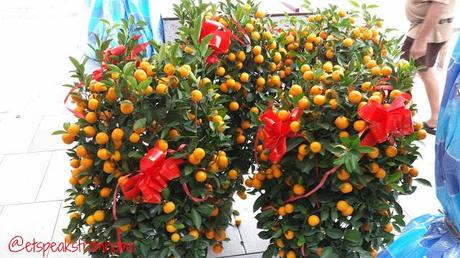 These are a showcase of plants Singaporeans get to buy to decorate their houses with: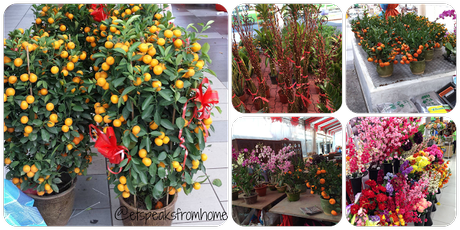 Mandarin is also used as an offering to Buddha as it means getting his blessing or request for good fortune.  They also of course a delicious fruit and provide a boost of vitamins and minerals.  They are one of my favourites as they also great for lunch boxes or while travelling!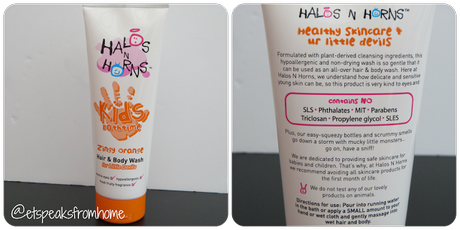 In keeping with the orange theme, I am also pleased to learn that Halos N Horns have new product - Zingy Orange Hair & Body Wash.  It comes with a new fresh fruity fragrance that is even more like freshly squeezed oranges.  It is deliciously refreshing!  The fragrance is still allergen free to help reduce irritations and sensitivity to allergies.It is formulated with plant-derived cleansing ingredients and contains no SLS and no parabens.  This means it's not as foamy and bubbly as some other products.  I love an all round wash as it saves me taking two different products into the shower - great to take travelling, swimming etc.Halos N Horns Zingy Orange Hair & Body Wash can be find in Asda, Boots and online at Ocado.  RRP £3.05. Halos n Horns is giving three of my followers the chance to win a tub of Zingy Orange Hair & Body Wash!  Good luck and enter through Rafflecopter!a Rafflecopter giveaway
House Rules:
This giveaway is open to all UK residents only.

Three winners will be chosen via Rafflecopter and announced on this page.

The winners will be contacted by e-mail within 3 days of competition ends, if they do not respond within 7 days another winner may be chosen.

Your details will be passed to Halos n Horns, but will not be passed onto any third parties by ET Speaks From Home.

The prize will be sent directly to the winner from Halos n Horns.

Delivery is not in the hands of ET Speaks From Home's Blog and may take some time to arrive.

Any damage to the prizes is not ET Speaks From Home's responsibility.

The company reserves the right to substitute the prize for one of a similar type / value if the prize above is not available.

Entries using any software or automated process to make bulk entries will be disqualified.

Competition starts on 14/1/2014 12 am - 12/2/2014 12am
Disclosure: We have received the product to do an honest review.  I am not paid to host this competition.  Images from family and friends and use with permission.