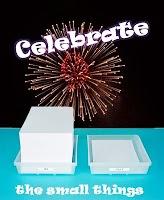 I have not posted in quite a while. There have been sooo many things going on at the same time that it has been hard to wrap my head all around them.
But, thanks to Lexi Cain (though I am sure she had no idea just what an impact her email reminder for the Celebrate Small Things Bloghop would have on me), here I am.
This week, I am thankful for:
1. My blood and urine tests revealed nothing too shocking. I do have some sort of an infection but my awesome doctor has prescribed the required medicines. 
2. I am back to reading again! Yay! I have not been reading for the past couple of weeks but I am now back in the groove.
3. Winter is almost over. Though I dread the intense summers here in India, I plan to enjoy spring.
5. We made it through an accident (a truck rammed our car) with just a busted tail light and a dent. It could have been much worse.
What about you? What are you celebrating this week? 
I will definitely be celebrating with you.