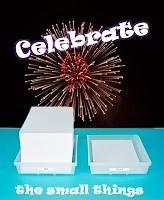 It has been a hectic week. There were so many things that needed to be done and so little time to do them. 
I am thankful for a number of things this week:

1. I managed to make, and devour, a really yummy leche flan after sooooo many years ;)

2. Our 5 month old (well, turning 5 months this 22nd) Lab Retriever has managed to grow all his permanent teeth -- thank goodness as I was getting sooooo tired of all the play biting.

3. A close friend managed to get the most important documentation of all done -- yay!

5. The squall which passed through this week did not do that much damage (my prayers go out to those who were badly hit)

6. I managed to complete a 3000 word article before midnight! (a major miracle because my brain decided to go slow-mo today)

I am celebrating with a large mug of hot mocha (every second sip is in celebration with you)

What are you celebrating? Whatever it may be... I am celebrating with you.