It is Friday once again.

Celebration day

! :) 
Celebrate Small Things is a blogfest or bloghop where a lot of wonderful people celebrate their achievements during the week or their plans for the following week. They also help others celebrate their achievements. 
I think it is wonderful to be able to have a day to celebrate things because it forces people to look at the good or positive things. And it is also a great way of encouraging others.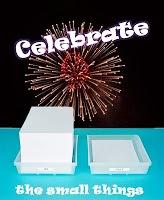 This week, I am grateful for so many things...
1. It rained yesterday! (Yay!) After so many weeks of temperatures averaging 45*C (113*F), the rain was really a big relief... Especially to the farmers who are preparing for the rice planting.
2. The gutters and the drainage system repairs at home were truly tested yesterday when it rained heavily, but both proved to be working pretty well. :)
3. Had some really yummy noodles as a snack and it tasted extra great because of the rain :)
4. Played in the rain like a kid! (Boy, that was fun...)
5. We got a new room cooler last Monday and it looks really nice and works like a charm
Whatever you have achieved, are achieving, or are planning to achieve... Be it baking those cupcakes, darning those socks, or fixing a leaky faucet... I think  you did absolutely wonderful and I am celebrating with you.
Time to do the happy dance :)