It's Banned Books Week, which has gotten me thinking about which books have been banned, where, when and most of all, why? I always used to imagine books that were banned were banned because they contained things that were completely shocking and anti-social at the time of publication. Things used to be different, and I get that.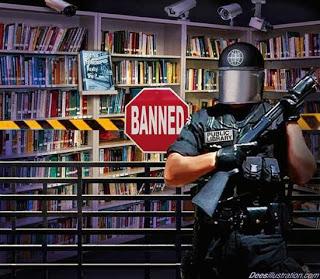 But I've recently been hearing all sorts of shocking things about books being banned for no good reason - particularly those for young adults. Speak by Laurie Halse Anderson has garnered a huge amount of backlash, but more recently Eleanor & Park by Rainbow Rowell has been the topic of hot debate - and this one really blows my mind - I found the book smart, entertaining, innocent and real. I thought Rowell did a great job of creating a believable teen world that neither tries to sugar-coat or whitewash the experiences of the characters, nor get too graphic about them. And I worry - if this book is a cause for concern, which books aren't?
I came across a great add for gun control while looking into banned books: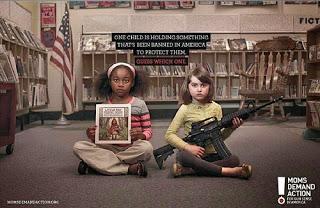 I love this juxtaposition because not only does it point out that gun control is a major issue - and one that can endanger kids' lives - but also that over-policing the fictional worlds of books is absurd.
Here are some other books - both classic and more contemporary - that have been banned. Some of them might surprise you!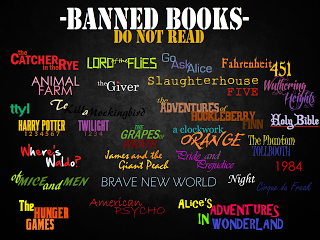 I can understand questioning what is and isn't appropriate for young readers - though, as you may know from my post on the subject, I tend to think they're capable of choosing their own books and should be able to do so. But what I don't get is banning books that have even a hint of questionable language or any reference to sex. I actually don't get banning these books, period. If you don't want your kid to read a book, talk to them about it. Explain why you're concerned. Help them find alternate reading material that you deem to be more appropriate. This is your right (and probably responsibility) as a parent. But don't go on a crusade to ban the book from being sold or carried in libraries. Don't go on a mission to stop the author talking about it. I don't think it's okay for anyone to remove access to a book for everyone. No one has the right to decide what I can and cannot read but me, thank you very much!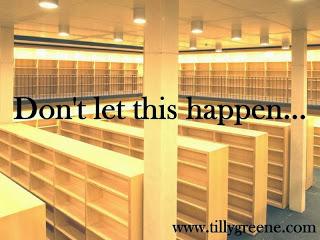 Oh, also? Banning a book is pretty much the best way to ensure that EVERYONE will want to read it. It's human nature. We like the forbidden. And on that note, I have a confession to make: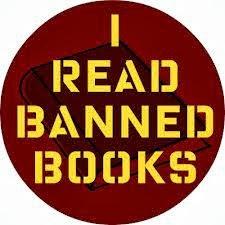 And I KNOW I'm not alone. Thoughts? Banned Books to recommend? Share in the comments! And if you'd like to learn more about Banned Books Week, go here.