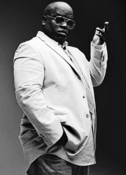 Cover of Cee-Lo
06/21/2011
Cee Lo Green, currently a coach on NBC's The Voice has come under lukewarm scrutiny over for tweeting a statement that can be viewed as homophobic.
The target was music editor Andrea Swensson after she gave the "Forget You" singer a dismal critique after his performance with Rihanna in Minneapolis.
"I respect your criticism, but be fair! People enjoyed last night! I'm guessing you're gay? And my masculinity offended you? Well f*** you!"
Not sure what I would deem more offensive, the fact that Green happens to be a mentor for those who are trying to break it into the business decided to act like a child or that he sees his act as masculine. No offense to Green (I am a fan of his) but he is this centuries Elton John, masculine is not a word I would use to describe him, but I digress.
Of course Green addressed his tweet before it went viral and caught the attention of GLAAD and went down a road similarly to Tracy Morgan.
"I most certainly am not harboring any sort of negative feeling toward the gay community. I don't have an opinion on people with different religious, sexual or political preferences," he explains. "I'm one of the most liberal artists that I think you will ever meet, and I pride myself on that. Two of the remaining members that I have on my team on The Voice are proud and outspokenly gay. We just did a team performance of 'Everyday People,' and I picked that song for us to do specifically to highlight how we can get along even though we're so different."
Nice save, Green. Of course, it is always nice when artists have to point out that they are "liberal" and have gay folks in their life – so of course, they aren't homophobic. However, what is with these stars opening their mouths before they think things through. Free speech is a wonderful thing and thankfully, Green addressed this before it spun out of control but it still doesn't make any sense. Green probably makes millions of dollars and yes, artists are sensitive about their s**t (Erykah Badu told us this) but come on – you are a mentor now – grow a pair and stop complaining.