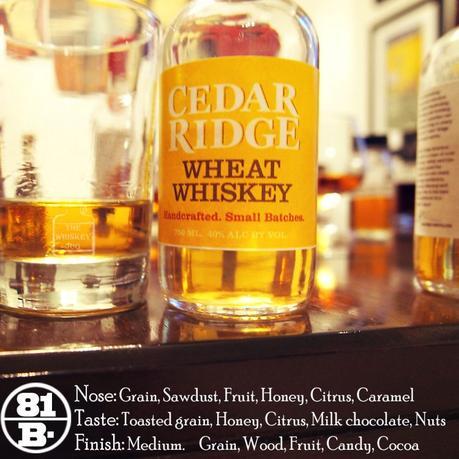 Cedar Ridge Wheat Whiskey is made using 100% winter white wheat and on the whole it's a fairly rare release as not a whole lot of people do a wheat whiskey. Heaven Hill has a wheat whiskey and a couple of craft guys have one and that's it. There isn't a huge amount of competition in this particular category and so it's nice to see one of the better craft whiskey distilleries out there doing one.
Cedar Ridge Wheat Whiskey Info
Region: Iowa, USA
Distiller: Cedar Ridge Distillery
Mashbill: 100% winter white wheat
Cask: New charred oak
Age: NAS
ABV: 40%
Price: $50*
Cedar Ridge Wheat Whiskey Review
EYE
Field of wheat in summer
NOSE
Grain, sawdust, fruity, honey, citrus, caramel and a light orchard fruit. Quite topical, not very complex, but seriously not a bad whiskey.
PALATE
Toasted grain, honey, citrus, milk chocolate and light notes of nuts, wood, vanilla, fruit and an oily character. Overall the flavor is quite light.
FINISH
Medium and grain heavy with notes of wood, fruit, candy and milk chocolate.
BALANCE, BODY & FEEL
Ok balance, medium body and a light, almost watery, feel.
OVERALL
Despite its lightness, the Cedar Ridge Wheat Whiskey a quite nice with some sweet notes that get counterweighted by some grain and wood notes. If it was at a higher proof it might be a lot better, but here at 80 proof it feels a bit flat.
Seriously, just a bit bolder and this would be a good whiskey. This poor little guy is begging and pleading to be bottle at 46% at the very least and allowed to show even more what it's capable of delivering. At least it doesn't have a heavy saw dust character like many craft whiskeys and it's balanced enough that if a friend poured me a glass I wouldn't complain. Take that for what it's worth.
SCORE: 81/100
*Disclosure: This sample if Cedar Ridge Wheat Whiskey was graciously sent to me by the company for the purposes of this review. The views, opinions, and tasting notes are 100% my own.