This Cauliflower Leek Soup tastes just like potato leek soup – it's incredibly flavorful and super creamy without ANY dairy needed! Made in just 30 minutes, this Paleo + Whole30-approved soup will definitely warm you up and satisfy – it's also easily made vegan.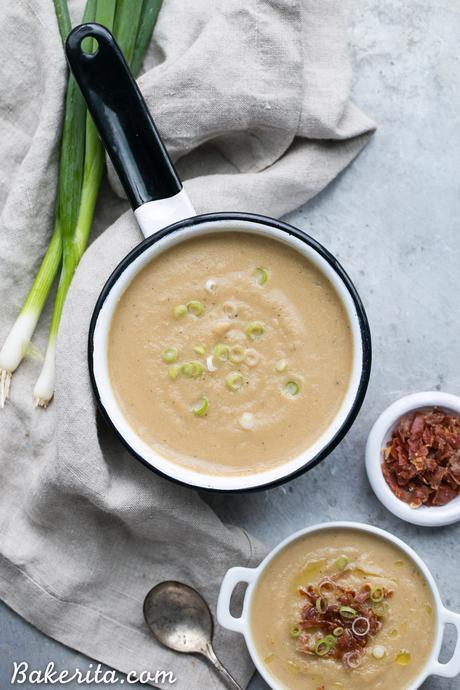 I've been promising you more savory recipes for a little while now, and I'm finally following through! With one of my all time FAVORITES, no less.
We grew up eating potato leek soup in our house. Always homemade by my mom, usually with some cauliflower snuck in there, and mopped up with crunchy homemade garlic bread. The memories could make me drool.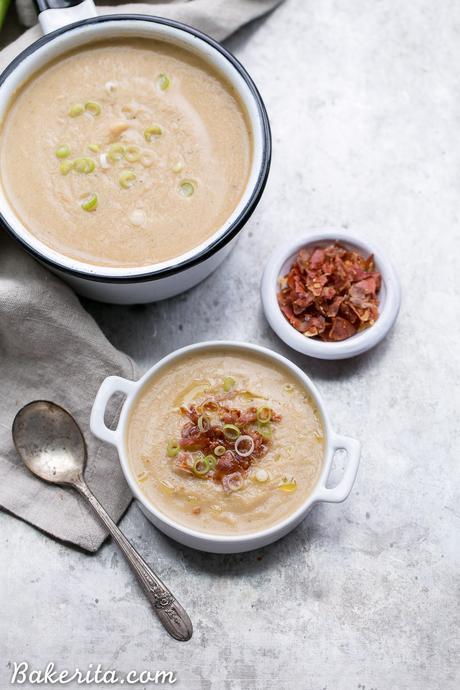 Over time, my mom eventually just replaced all the cauliflower with potatoes and neither me or my sister were any the wiser. I recently asked my mom for the potato leek soup recipe she always makes, and it was only then that I learned she didn't use potato, just cauliflower.
News to me, but seriously, you don't miss the potato AT ALL. This soup is luxuriously creamy, and there's no need for cream or butter or potatoes to give it a boost. The cauliflower, when cooked until perfectly tender, do it all on their own.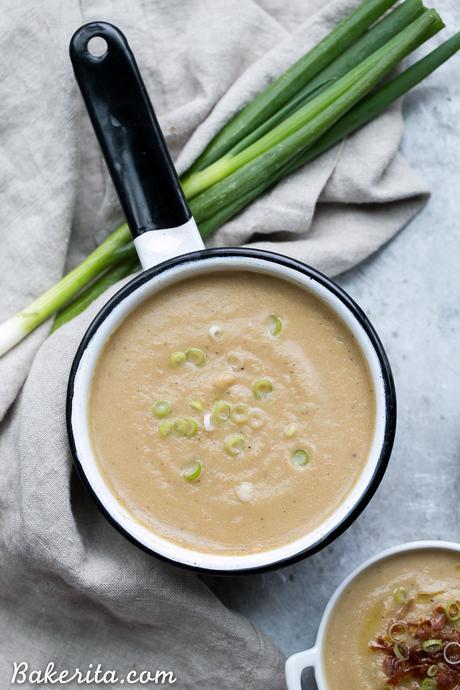 My mom's recipe was super simple – pretty much just leeks, maybe some onion, cauliflower, chicken stock, and salt and pepper. I kept it pretty similar to the classic, but I added a few nuggets of flavor boosting goodness.
I caramelized the onions and leeks a bit, which contributes to the darker color of the soup. It gives a richer, deeper flavor to the soup. I also added some dried thyme, which pairs wonderfully here, as well as some roasted garlic. It was calling to me from the fridge and I knew it'd be a wonderful addition. If you don't want to roast garlic just for this but still want some garlicky flavor, you can toss in a clove or two of raw garlic, depending on how strong you like it.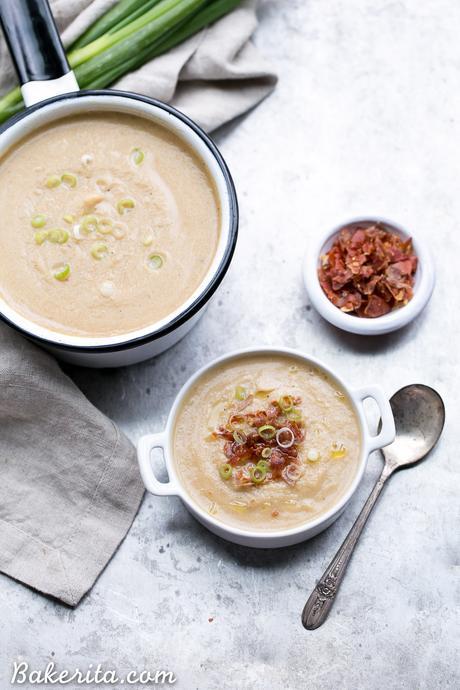 I opted for homemade chicken stock I had on hand, but to keep this recipe vegan, you can use veggie stock and it'll be just as good! I also added a squeeze of lemon juice at the end to add a little brightness.
To blend the cauliflower leek soup into luscious creamy goodness, you can put the soup in your blender (I used my Vitamix) or use an immersion blender and blend right in the pot! For garnish, a sprinkle of crispy prosciutto and fresh green onions are the perfect pairing.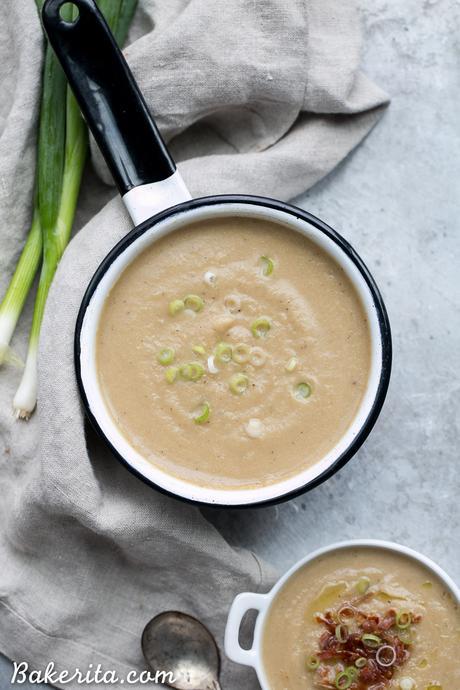 Let me know if you like seeing my savory recipes, and I'll start sharing more of them in addition to my sweet goodies :) enjoy, my friends!
Remember to #bakerita if you try the recipe!
Cauliflower Leek Soup (Paleo, Whole30 + Vegan Option)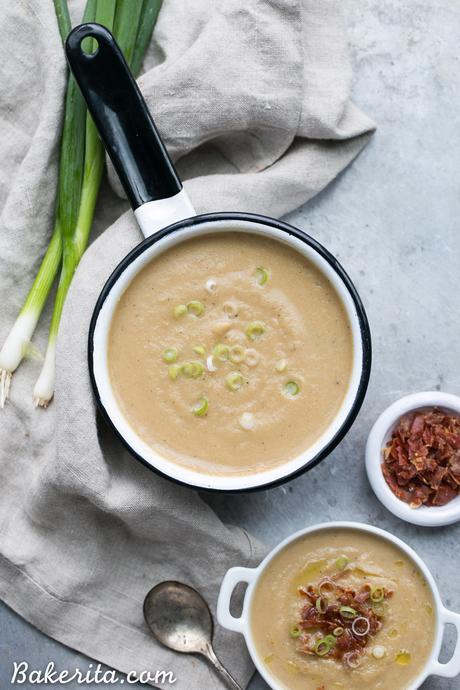 Save
Print
Prep time 5 mins Cook time 25 mins Total time 30 mins   Author:
Rachel Conners
Serves:
4 servings
Ingredients
2 tablespoons olive oil
1 medium onion, sliced
2 leeks, sliced thin (only the white part)
1 large head or 2 small heads cauliflower, about 1.5 lbs. (fresh recommended, but frozen will work)
4 cups chicken or vegetable stock (use vegetable stock to keep vegan)
1 teaspoon dried thyme
3-5 cloves roasted garlic, optional
½ of 1 fresh lemon
Salt + pepper, to taste
To garnish
Prosciutto or bacon, sautéed until crunchy + crumbled up (skip this to keep vegan)
Green onions, sliced
Directions
In a large saute pan, heat two tablespoons olive oil over medium heat. Add the leeks and onion and saute until the onions are starting to caramelize and the leeks are starting to turn golden brown.
Add the cauliflower and sauté until it starts to brown. Add the chicken or vegetable stock and dried thyme and bring to a boil. Reduce heat to medium-low and simmer for about 15 minutes, until the cauliflower florets are tender and cooked through.
Add the roasted garlic if using, and lemon juice and use an immersion blender to puree the soup until smooth. You can also ladle the soup into a blender to blend until smooth.
Taste the soup for seasoning and add salt and pepper to taste. If it's thicker than you'd like, thin it out with a bit of extra stock. Serve with a drizzle of olive oil, crispy prosciutto, and green onions.
3.5.3226

There's more where that came from!
Gluten Free Asiago Rosemary Cornbread

My Best Chili

Mini Berry Tarts (Paleo, Gluten Free + Vegan)

Homemade Apple Pie Larabars (Gluten Free, Paleo, Whole30 +…

Pear Apple Crisp (Gluten Free, Paleo + Vegan)