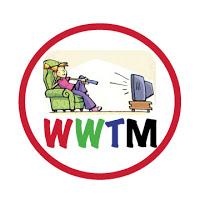 THE ANSWER TO MONDAY'S TRIVIA QUESTION: Every week, Gabe would start Welcome Back Kotter off with a story/joke about one of his family members.
FIRST FIVE: James Gabriele, Crystal Kyler, Dave DeSocio, Phyllis DiCesare & Chuck Chiocco
HONORABLE MENTION: Jim Carter

THE NUMBERS
Friday's Cable Top 5
Gold Rush-Discovery 1.2/3.2
Big Bang Theory-TBS .7/2.0
Edge of Alaska-Discovery .6/1.9
WWE Friday Night Smackdown-Syfy .6/2.2
Gold Rush: Dirt-Discovery .5/1.8
Sunday's Broadcast Top 5
Sunday Night Football-NBC 6.4/17.2

World Series-FOX 3.0/10.9




60 Minutes-CBS 2.4/13.4




Once Upon a Time-ABC 2.3/6.6




Madam Secretary-CBS 1.5/11.5

Sunday's Cable Top 5 NA
Sunday's Top 5 Nielsen Twitter Ratings The Walking Dead-AMC 552,000 Tweets WWE Hell in the Cell- PPV 222,000 Tweets Once Upon a Time-ABC 62,000 Tweets Boardwalk Empire-HBO 22,000 Tweets Real Housewives of NJ-Bravo 11,000 Tweets  Top 5 DVR'ed Shows for the Week of 10/6/14 How to Get Away With Murder-ABC from a 3.1 to a .4 (+74%) Modern Family-ABC From a 3.5 to a 5.8 (+66%) Big Bang Theory-CBS From a 4.6 to a 6.8 (+48%) Blacklist-NBC From a 2.6 to a 4.7 (+81%) Gotham-FOX From a 2.5 to a 4.5 (+80%)
Congrats Flash cast! The series premiere of The Flash did well on its own, but it increased by 6.8 million viewers in the first week it aired. This made The Flash the most watched telecast of any show on the CW…EVER. The premiere has been viewed 13 million times across all platforms. 

THE SHOWS Homeland

We totally get what Carrie is trying to do with Ayan, but that doesn't make it any less creepy, does it?  Knowing Carrie's track record, she could end up falling for Ayan which would be wrong and bad and freaky. Quinn doesn't like what she's doing anymore than we do, but Saul seemed like he had been there and done the exact same thing a million times. He even wished Carrie luck. Of course there was no way Saul would leave town. He tried. He went to the airport, but wouldn't ya know it? Fanad Ghazi was there at the exact same time, drugged Saul and threw him in the trunk of car. Now I bet he wishes he had just gotten on that plane. The Ambassador's husband is still in spy mode. The old fake sleeping thing worked well for him, didn't it?  Now he's in Carrie's place take pics of her pills. Not sure who wants um, but I guess we'll find out soon enough. 

The Affair

I'm officially done with this one. It bores me. I don't really care who was killed, I don't like Noah or Allison, I don't feel their connection or their chemistry or anything. I don't have the patience to play it all out either. Makes Sunday's (and Monday's) a whole lot easier without this one on my list. Season Pass DELETED. Worse comes to worse, you guys will let me know that I made a big mistake and I need to go back but so far, I think I made a good call. 
THE OTHER STUFF

-I guess I might have to watch True Detective when it comes back to HBO next year. Taylor Kitsch aka Tim Riggins from the best TV show ever, Friday Night LIghts, will be starring in it. There aren't too many people in Primetime who could get me to tune in to a murder mystery, but now, I'll do it. HBO better make sure that Taylor's character plays football, exercises a lot and rarely wears a shirt to insure that I stick with it. -Neil Patrick Harris is on fire. First the Oscars and now he's going to be hosting a variety show on NBC. No idea when it launches, but if anyone can host a variety show, NPH can. Man, his husband sure married really well, didn't he? What a catch!  -CBS has given full season orders to all 4 of it's new dramas. NCIS New Orleans, Scorpion, Stalker and one of my top picks, MADAM SECRETARY!!! YEAHHHHHHH  I bet Les is pretty proud of himself. Hey Julesssss we can take that vacation to Bali!!! I don't have to worry about any cancellation meetings, so let's grab the Jet, pull the kid nobody knows we have out of school for a few days and we're outta here! 

-Does anyone really ENJOY an 8 minute jam? Maybe if you're high and at a Phish concert, but Saturday night when you know Chris Rock is waiting in the wings, do you really want 8 long minutes of Prince? That's the plan, people. I don't know what Lorne's thinking, but luckily I'll be watching on Sunday morning and I'll fast forward through it. Weird move in my opinion. Tuesday's Trivia Question:  Name as many shows as you can that are only 1 word titles. Each correct answer equals a point. Trying to give you guys some added points as we get closer to the 31st. WWTM-Kristy Like me on Facebook at Watching Way Too Much

Follow me on Twitter at [email protected] http://watchingwaytoomuch.com

[email protected]

.