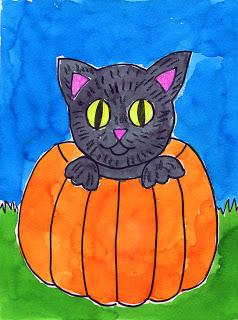 Consider this drawing a study in circles. The head, eyes and pumpkin give kids plenty of practice in making round shapes.
1. Start by drawing the cat head in the middle of the paper. Add the ears, eyes, nose and mouth.
2. Draw the two paw shapes underneath, making sure they touch the head.
3. Draw the top curve of the pumpkin between the paws and on the sides. Add the sides and bottom. Finish with the pumpkin lines. Add horizon grass line.
4. Trace all the lines with a black Sharpie marker.
5. Color the small shapes with a crayon (ears, nose, eyes).
6. Paint all the shapes as desired. This sample was painted with Dick Blick Liquid Watercolor paints.