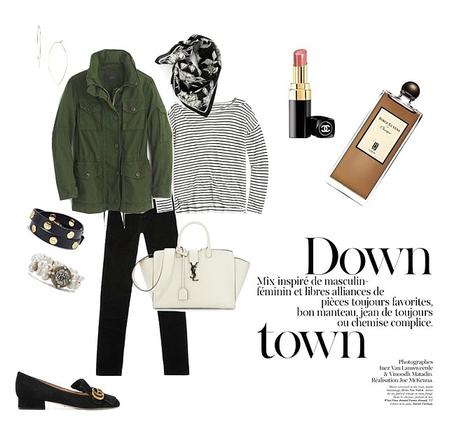 On the style continuum between "girly girl" and "tomboy," my comfort zone is somewhere in the middle. I feel most myself when I can achieve a balance between feminine and masculine elements in an outfit.
Above: earrings | scarf | jacket | top | bracelet |
bracelet | jeans | bag | shoes | lips | fragrance
Balance between soft and structured elements is essential too. And I find that mixing levels of formality, rough and polished within the same outfit, is another kind of balance that appeals to me. It can be tricky to keep it from looking slapdash, though. I'm still fine-tuning my formula.
How do you find balance in your style?
Bon weekend!

Turn on your JavaScript to view content