Today's rye whiskey review is the Cask and Crew Double Oaked Rye. Sourced from Canada and given a second maturation in new charred American oak, this whiskey joins the double-barrel trend and being rye it sits in the same relative playing field as the Old Pepper Rye "Finest Kentucky Oak".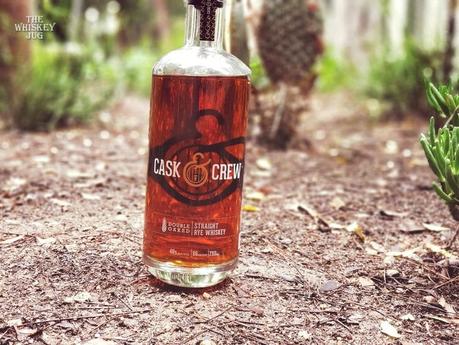 I get that this is Canadian and the Pepper comes from the powerhouse of rye, MGP, but they share a kinship in relative age and process. Both start life in new charred oak and then get a second go in another new barrel. The question is, in a head-to-head, who will win? Only one way to find out…
Cask and Crew Double Oaked Rye Review: Details and Tasting Notes
"Giving our Straight Rye Whiskey a second dose of new, charred, oak barrel allows for a genuine connection between cask and whiskey. We believe that a great whiskey and atmosphere is the right recipe for friends, family, teammates, or coworkers, YOUR CREW, to get together and create moments of genuine connection."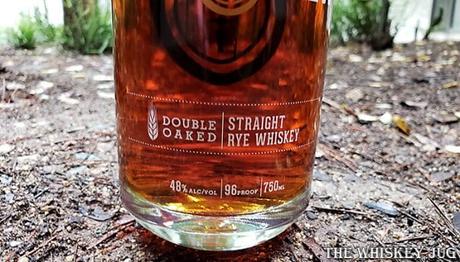 Details (price, mash bill, cask type, ABV, etc.)
Region: Canada
Distiller: Unknown (likely Alberta)
Mash Bill: At least 51% rye
Cask: New Charred Oak (2x)
Age: 4 Years
ABV: 48%
Price: $60*
Tasting Notes
EYE
Amber
NOSE
Orange Dreamsicle, spice, chocolate, wood, apricots, Necco, sandalwood and dried pineapple.
PALATE
Oak, freeze-dried strawberry ice cream (astronaut ice cream), roasted grain, toffee, Necco, touch herbal and citrus.
FINISH
Medium -> Woody, roasted grain, vanilla frosting raw cocoa.
BALANCE, BODY & FEEL
Not balanced, medium body and a dry tannic feel.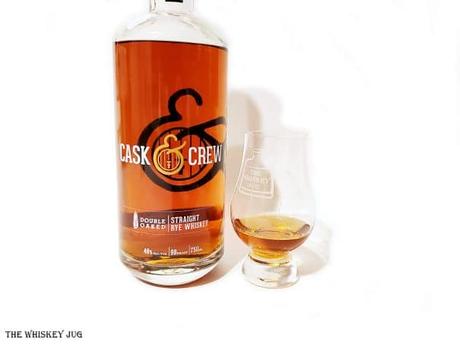 Cask and Crew Double Oaked Rye Review: Overall and Score
Aroma is quite sweet and rolls through like a sweets shop mixed with some Sandalwood; Palate is overly oaked and it gives the whiskey a raw profile; Finish is raw and dry. Gotta be honest, I'm not liking this and think the double casking was overkill. It's not nearly as balanced and tasty as something like the Old Pepper Finest Kentucky Oak.
I understand they wanted to go a different route with the Cask and Crew Double Oaked Rye and not just bottle some Canadian rye like so many others, but I think it was overdone. Maybe less time or maybe use freshly dumped bourbon barrels instead. Something to give more flavor, but not enough oak to oversaturate the whiskey.
SCORE: 2/5
*Disclosure: The bottle for this rye whiskey review was graciously sent to me by the company without obligation. The views, opinions, and tasting notes are 100% my own.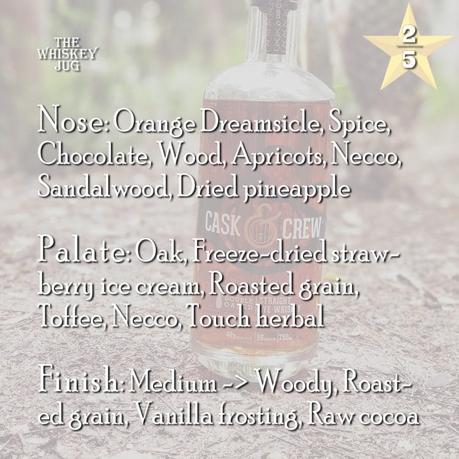 Cask and Crew Double Oaked Rye Review
$60
Overall
2
Nose

(2)

Palate

(2)

Finish

(2)

BBF

(2)
Sending
User Review
0

(

0

votes)
Comments Rating
0

(

0

reviews)

Cask and Crew Double Oaked Rye Review Summary
Most of the time I think these Double Oak whiskeys are overdone and I don't see a whole lot of improvement with the addition of a second cask, usually it just makes it too oaky with all of the nuanced grain notes covered up. That's exactly what's happened here.
'''''''''