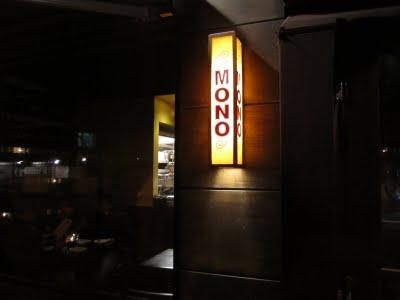 It should not have taken me eight years to make it to Casa Mono. Period. Sure, it is small and whenever I've passed it and peered in, always full. But, unlike many excellent, cozy restaurants in New York City, it is certainly not impossible to get into - and it is so nicely centrally located near Gramercy Park. I guess my discovery is better late than never. And for those of you looking for another go-to restaurant guaranteeing gourmet and innovative cuisine (and actually getting in the door), add Casa Mono to your list. While it's not new to the city's culinary scene, it could have fooled me with its inventive and fully energized kitchen, on display for the entire restaurant. Even if you aren't lucky enough to be seated at the bar with front row access to the full preparation and execution of the menu, you're sure to have enough of a view to be impressed and make your mouth water until your food arrives.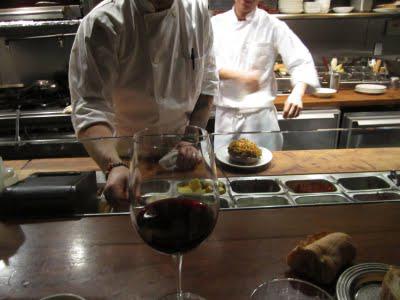 While much of its success can and should be attributed to the management of food icon Mario Batali, Casa Mono has chef Andy Nusser's Spanish upbringing to thank as well. The menu is entirely influenced by his background, setting it apart from the rest of the traditional Batali Italian dynasty. It's companion wine bar next door, Bar Jamon, offers a small taste of what Casa Mono has to offer - adding to the allure of this Irving Street destination. It allows diners the chance to wait out any crowds next door in an even more romantic and cozy setting. And I can promise that it's worth the wait (even 8 years for me)!
The menu at Casa Mono is all small plates. Don't let this intimidate the big eaters as nearly every plate we orde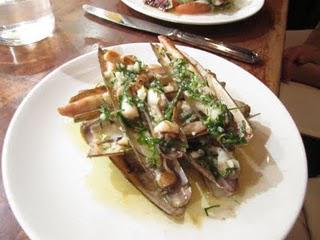 red had impressively sizable portions given their reasonable cost. I recommend about two plates per person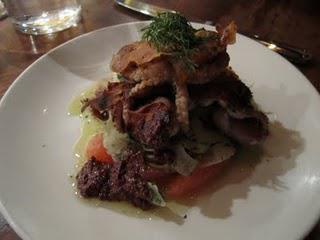 , although they will most likely tell you to order at least three per mouth. The options are heavily weighted with seafood and pork - recalling its Spanish roots as well as pleasing me immediately. While the options do change keeping the menu fresh and exciting, there are definitely some staples that should stick around for years to come. I highly recommend the razor clams a la plancha as they are full of garlic and perfectly baked. For other s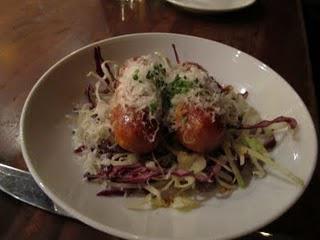 eafood, I would recommend the pulpo (octopus) with fennel and grapefruit as well as the sepia (cuttl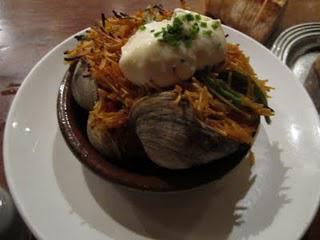 efish) with salsa verde. Two extremely refreshing dishes. For the sausage lover, you can't go wrong with chorizo with cabbage and aged manchego. But, my favorite dish of the night was the fideos (baked pasta) with chorizo and clams - a dish that brings the entire menu together. The flavor combination is just perfect on top of the crispiness of the baked noodles.
And for those of you counting, Casa Mono is still on the Sifty Fifty. As you know I by no means swear by the list, but my eyes, ears, and taste buds do perk up every time I venture to one - checking if they are at least in line with Mr. Sifton. Well, I'll vouch for him yet again. There is a reason this old-timer has stayed on the list and I'm just sorry it took me so long to confirm it.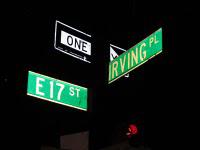 Casa Mono


52 Irving Place
New York, NY 10003
(212) 253-2773


FOOD RAT

I

NG (Out of 5):