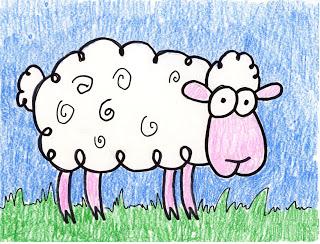 Here's my cartoon drawing project from this afternoon, a very curly sheep. I like the loopy lines, but it seemed that kinder and 1st graders generally did better just trying to make scalloped ones, still very cute!
1. HEAD: Start with drawing the eyes, then add the ears. Draw a big "W" for the face. Add the nose. Draw the curly wool on top.
2. BODY: Draw a loopy line oval body to the left of the head. Add a loopy tail.
3. LEGS: Add the pointy legs below.
4. Trace with a black marker, some thin lines, some thick.
5. Color in with crayon.