A couple of weeks ago I was having a good old chat with a fellow gardener, when he leaned across conspiratively, and asked:
"Have you planted your Christmas carrots yet?"
Slightly bemused but keen to know more, my interest was well and truly piqued… surely it was way too late to be putting carrots in: mine have all just been whipped OUT of the garden!  He went on to explain that carrot seeds sown in a deep pot in the greenhouse now,  had a good chance of being ready in time for the Christmas table.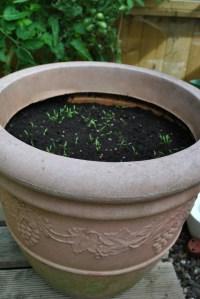 Carrot seedlings
I'll have a go at most things garden related, so off I went down to the greenhouse, filled my deepest pot with compost, and duly sowed a thin layer of seeds on the top. And do you know what? They've only gone and germinated. They're still very tiny, but plenty have popped up already. When they're a wee bit bigger, I'll thin them out to give them a bit more room to grow. As our greenhouse isn't heated, it'll certainly be interesting to see when they are ready to eat.
Elsewhere in the greenhouse, the caterpillar damage seems to be coming to a halt, and I'm now harvesting masses of red chillies. We can't possibly eat the amount we have, so I'm drying some out. After threading some chillies onto a length of cotton, I've hung them up to dry in the utility room. In about three weeks or so they should be completely dried out, at which point I'll whiz them up in the mini chopper. This will give us a good supply of chilli flakes to use throughout the year.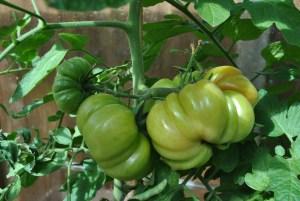 Tomatoes ripening
The tomatoes are also coming in thick and fast. To help them ripen, we've snipped off a lot of the lower leaves so the light and air can get around the fruits. My lot aren't actually all that keen on tomatoes, so I've had to be a touch creative with using them up. Lots have gone into soups, and at the weekend I even made my own pizza base topping: I added peeled, chopped tomatoes to a pan with a squeeze each of tomato puree and garlic puree, brought it all to the boil and simmered the mixture to reduce it down. Delicious.
In other news, we have exciting developments from Cluckingham Palace.
After a good six months of Maud not laying anything, she now appears to be having a mid-life crisis. She thinks she is 'hip with the young chicks' and is laying like a trooper. Which makes for a lot of eggs: and a lot of cakes and quiches.
We can't complain though – after all the sweat and toil we've put into the plot, it's great to have so much produce to show for it.
This article appeared in The Hinckley Times on 19 September 2013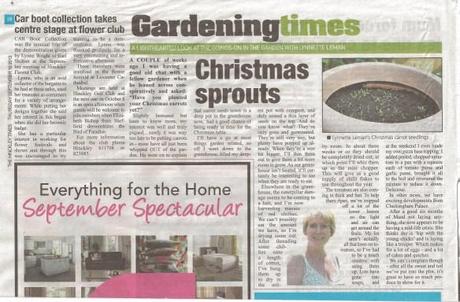 The Hinckley Times 19 September 2013