Recipe Number One Hundred & Sixty Two:  Page 308.
This Carrot and Orange Loaf streaked to an easy victory on my Facebook Poll this week. It certainly was a popular choice. If I were to list my favorite cakes, then carrot cake would definitely have the top spot. Rather ironically the root vegetable in question rarely visits my dinner plate and, when it does, it is smothered in gravy. How do all those super healthy people eat them raw? It is certainly an acquired taste! However, shove some in a cake and I'm ecstatic!
As I'm sure you can imagine, I was eager to tuck into this cake! Alas, I was a little forlorn when I realised there would be no delicious cream cheese icing. I don't think I've ever eaten a carrot cake without icing before. There is of course a first time for everything and I had to admit that it would benefit my ever increasing waistline!
I intended to pay a visit to the shop after our morning trip to the swings as I needed to buy an orange. Unfortunately, due to some badly timed drizzle, we ended up making a hasty retreat from the park and galloping home at high speed. A single orange wasn't worth getting drenched for, so we bypassed the shop! This turned out to be a wise decision as, once we were through the front door, the heavens immediately opened. As an orange is obviously integral to this recipe, hence its mention in the title, I decided to make do with the clementines we buy especially for our little boy. I had a rummage in the fruit bowl and extracted two good sized clementines. I trusted that Isaac wouldn't mind my pinching them! Using two in place of an orange would, I hoped, do the trick!
After turning on the oven and lining my loaf tin, I grated the zest from both of the clementines. One took mere seconds, while the other was far squidgier; it clearly wasn't keen on the idea of baldness! After grating the zest, I was instructed to cut away the pith and thinly slice the orange, or clementines in my case. I wondered what would happen to the slices. Further reading of the recipe explained that they would be placed on top of the cooked cake. I know I should never question Mary but I wasn't sure that I liked the idea!
A few minutes later, and with clementine juice dripping from both of my hands, I thought I might as well deal with the carrots next. It might be a good idea to get rid of all the messy jobs first! After peeling the carrots I glanced back at the Baking Bible. I was forced to use my limited common sense as Mary does not say what to do with them. I suppose it is blindingly obvious that they should be grated; it wouldn't really be wise to add them whilst still whole!! Bits of carrot merrily flicked everywhere as I grated them into the mixing bowl; a big clean up job would be needed once the cake was in the oven. Something to savour!!
With both the zest and grated carrot finally in the bowl, I turned my attention to adding all the other ingredients. As I'm used to using oil in carrot cakes, it felt a little strange to be weighing out butter instead. It would be interesting to see if I could taste the difference. I've mentioned countless times before my love for muscovado sugar and I was really pleased to be using the light variety in this recipe. Its rich almost toffee flavor is delicious. After adding in the sugar, I weighed in the self-raising flour and a little baking powder. I was instructed to beat the eggs before they made their way into the bowl. I obediently cracked them into a cup before absentmindedly tipping them straight into the mixing bowl still in their unbeaten state! Well, that was a waste of time!
I like my carrot cake to have a touch of spice, so I was pleased to be including some mixed spice. However, I wasn't sure I would really notice it as it was such a small amount. The time had finally come to combine all of the ingredients together. Mary doesn't say to beat the mixture but I couldn't see how else I could easily break up the butter, so I reached for my electric whisk. I gave it a very quick mix on the lowest setting just in case I was doing the wrong thing!
Isaac, who'd been happily observing the cake making process, decided that now was the time to clear up Mummy's mess. He picked up some pieces of grated carrot from the floor and exclaimed "dirty" before trotting off and putting them into the living room bin. Now, if I could just teach him to do the dusting and washing up, I would be onto a winner!
Mary mentions to add a tablespoon of milk to the mixture if needed to create a dropping consistency. I found that this was necessary. I was a little heavy handed when measuring in the milk and an extra splash found its way into the bowl. Hopefully all would be well! I spooned the cake mixture into the waiting loaf tin and then placed it into the oven. It would need to cook for about an hour, so I got on with making lunch. I alternated between sandwich making and licking out the bowl. I have to admit that the raw mixture was so delicious that I found it to be quite distracting; it was some time before a finished sandwich was produced!
An hour later I discovered that the cake was browning at an alarming rate! Luckily now was the time to add the slices of clementine on top. As I reluctantly dotted slices of clementine over the surface of the cake, I couldn't help but shake my head; it really did look peculiar! I brushed some clear honey over the cake and then placed it back into the oven for another fifteen minutes.
Once the cake was out of the oven, I left it to cool for a few minutes in the tin before attempting to tip it out onto a wire rack. How on earth could I tip it out without all the clementine slices falling off?! Of course the inevitable happened and they immediately gave in to gravity. No attempt was made to stay in place!! I did my best to reassemble the squashed fruit even though I couldn't help but think that the cake looked better plain.
After the cake had cooled, I tried to slice it for the important photograph. I found it really tricky to cut into neat slices as the cake was so moist. This meant I ended up sampling earlier than intended; I couldn't resist all the broken pieces. It was absolutely delicious! The orange flavor and the hint of mixed spices complemented each other perfectly. I have to say that carrot and orange is a match made in heaven; I'll be using them together from now on. I could also clearly taste the honey. I think this contributed to the moistness of the cake. Due to its overall moist nature, Mary says to store in the fridge if it's to be kept for any length of time. Fat chance of that happening in this house – it will be gone in no time!
I gave Isaac a few pieces to try; he gave me a lovely big smile and said "good". This really made my day as he has never said that word before and it made it clear that this cake is considered a real winner. Praise indeed! Although it isn't really much to look at, looks are deceiving in this case. It is absolutely scrumptious. Next time I make it though, I think it's safe to say that I'll leave the orange slices off the top!!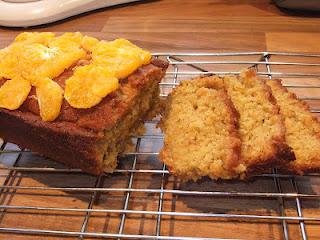 It may look odd but it tastes fab - promise!