The skies have become clear and the days much warmer. Summer is here. I have reminisced the winter season and last few months in more words than I would have fancied in one of my previous posts' "Winter in Dubai". I am finally beginning to take in, that the season is changing and there is nothing I can do about it. May be, except to write about it umpteen number of times until I am finally engulfed in a thick mist of atrocious humidity in coming few months.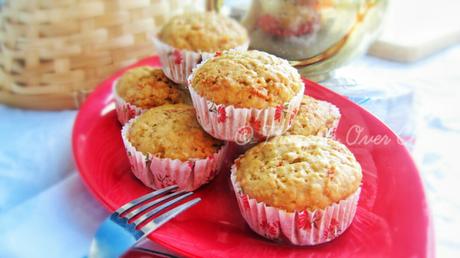 A friend called up the other evening. Said she was coming over the next morning on her way to work and sounded like she wanted to confide. To vent, probably. If you come visit me at home in the morning, you'll always find a pot of tea brewing on the gas because I need not one but many small cups at regular intervals to really not behave like a zombie. And also get my house-work done before Little A return from kindergarten. The best venting session happen over a cup of tea; with ofcourse something absolutely comforting to accompany. I generally think in the likes of baked goodies that are easy to whip up in no time instead of me having to leave the rest of my work that I can simultaneously do in the kitchen unless indeed it is for a special occasion. What I mean is, I like to carry out all my cooking duties in the absence of Little A so that he doesn't sit and whale away his time in front of the television lest I have something planned for us to cook or bake together.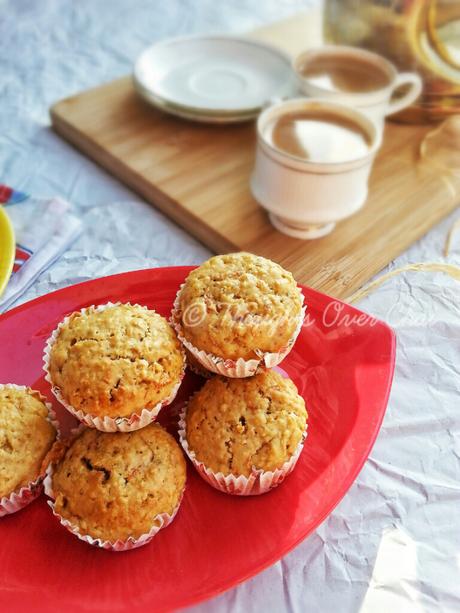 Coming back to my friend and the venting session the other day, I wouldn't honestly divulge in personal details. However, what I'd love to warmly share is the recipe of muffins that I decided to get down to baking that morning prior to a sound of a doorbell. If I were ever forced to choose between a bread and muffin as my favorite breakfast item, the muffins would most likely win. I have grown up eating both of them with equal gusto, per se, but there is something about the warm muffins that I unconditionally love. The fragrance wafting through the oven and joy of opening a freshly baked muffin cannot be defined. It can also be for a reason that I still shy away from baking my own bread at home and hence I don't experience the happiness most bread bakers laud about. Muffins are also incredibly friendly to work with and also versatile in a sense that switching carrots with chocolates, your favorite fruit or anything lying around the kitchen are pretty much uncomplicated substitutions. Or if you don't fancy anything sweet you should give another recipe of savory muffins from this blog a try – Pesto Cheddar muffins.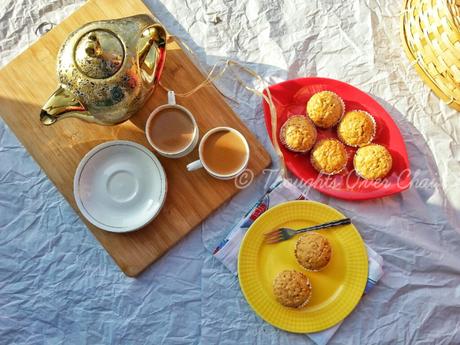 Since we are cutting down a lot on white flour in the house, I used whole wheat flour combined with other pantry staple – oats! The recipe is completely fuss free and in harmony with my cooking habits these days. Very straightforward and super simple too. It took me less than 30 minutes to dish out the carrot muffins which paired so well with our conversation and numerous cups of tea that day. These carrot and oats muffins are perfect for one of these kind of sessions or simply for a breakfast. If these doesn't do the trick, you know a hug can heal many a wounds, don't you?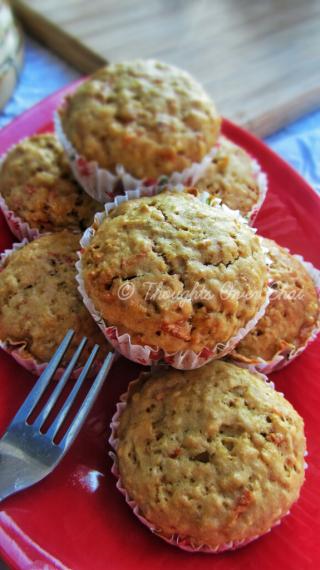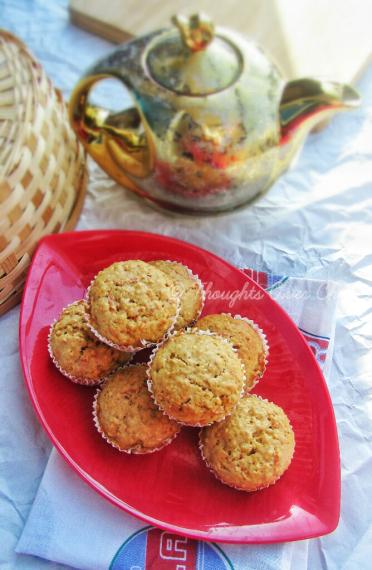 I also did pack a couple for Little A next day in his snack box which he loved too.
Did I also mention it is healthy? Think about carrots, oats and whole wheat; it will surely click!
Carrot and Oats Whole Wheat Muffins
Servings: 12 cup-cake sized muffins
Difficulty: Easy
Ingredients :
Whole wheat flour – 1 1/2 cup
Cooking oats – 1 cup, coarsely ground
Vegetable Oil – 1/2 cup
Eggs – 3, large at room temperature
Carrots – 2 cups, grated.
Vanilla essence – 1 tbsp
White sugar – 1 cup, or less.
Baking soda – 1 tsp
Baking powder – 1 tsp
Salt – 1/4 tsp
Ground cinnamon – 1/4 tsp
Method :
Preheat oven to 180 Degrees C. Line the muffin pan with liners or grease with oil and set aside. Mix dry ingredients together and keep aside. In a large mixing bowl whisk together oil and sugar. Beat in eggs one at a time. Mix in the vanilla. Stir in the dry ingredients and gently swirl with a light hand until the flour is well incorporated. Fold in carrots and do not overmix. Pour into prepared muffin tins and bake for 20-25 minutes or until a cake-test come out clean. Serve warm.