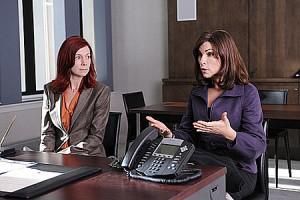 Carrie Preston (Arlene Fowler to Truebies) has had a busy schedule while True Blood filming is on sabbatical.  She's starring in a new film called Bag of Hammers with Jason Ritter and Amanda Seyfried, which she has described as a departure from her other roles as of late.  Her character is a single mom who is way over her head.  She has no money, a kid and no job prospects; naturally the role is "more serious, darker."  The characters who play opposite her are "two slacker con-artists.  Young men who are really just boys… [who] by encountering my character and son… they grow up," Preston says.  "In some ways, [the film is] a subversive look at alternative parenting."  The theatrical release of the indie flick Bag of Hammers is set for this fall or winter.
On the small screen, Preston has guest starred on Law and Order: Special Victims Unit (in which she plays the aunt of a rape victim) and a recurring role on The Good Wife.  On The Good Wife, Preston plays Alicia Florrick's (Julianna Margulies) "slyly dithering lawyer" who is "ditsy like a fox."  Preston plays Elsbeth Tascioni, the "scatterbrained genius" with a "quirky rhythm" says Ken Tucker of EW.com.  Elsbeth returns (from the first season) to help Alicia out of a sticky situation with her expected-terrorist client.  The episode entitled "Executive Order 13224″ aired November 6th.
Of her role, Preston said that she was delighted with the character's ripening.  In this particular episode, we see her "struggle a little more.  We see a little more of her vulnerability.  It's always a rare thing… to have a character that is so unique and specific [in such an auxiliary character]… instead of just a talking head."  She credits  The Good Wife with the ability to write characters back into plots successfully.  "[They have] a wonderful revolving stable of characters that they continue to bring back… They tend to want to give everybody that comes on the show a real, fleshed out character."  She asserts that this ability, among other great qualities, is what keeps the audience interested.
But what we all want to know is what she can reveal about True Blood's Season 5!  Shooting begins shortly after Thanksgiving, and after reading the first episode, she affirms that it is "up to the usual True Blood standards with epic proportions of new characters and drama and comedy.  You know, romance and everything else we've come to expect."  About Season 4 cliffhangers she declares, "fans will definitely be satiated almost immediately," but then, "of course, a million more questions will come up, and those will propel us through the rest of the season."  The actors that will play the new characters are not known to her, yet.  On her story-line she reminds us that Terry's war buddy, played by Scott Foley, is still around and we're not sure how that will affect their home life.  Her response is as tight-lipped and spoiler-free as her cast mates'.  We're reminded yet again that we're going to have to wait for the premiere to learn just about ANYTHING… but the element of surprise is what keeps us interested, right?
Sources: EW.com and Movieweb.com
Photo: CBS/The Good Wife