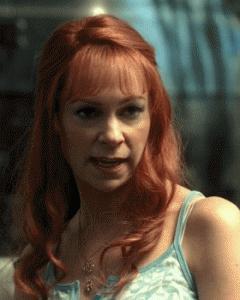 Since HBO's True Blood has been on hiatus, Carrie Preston, who plays the fiery Arlene Fowler, has been quite busy booking a number of roles on top network shows such as Law and Order: SVU and The Good Wife. She guest-starred in the SVU episode: "Educated Guess", playing the aunt of a woman facing multiple troubles. On what drew her to the role:
"The showrunner for 'SVU' now is Warren Leight, and Warren is a playwright first and foremost even though he's been doing television for so long. I would say about 8 or 9 years ago I did a play of his at Baltimore Centerstage… I would do anything for him. This came along, it just worked out schedule-wise and I liked the role… Like I said, I'll work for Warren — I'll go anywhere for him."
According to TVLine, Preston will be back on The Good Wife later this year. On True Blood Season 5:
"There are a lot of new characters, as is always the case with 'True Blood.' You will get some quick answers right off the bat. The show is not going to leave you wondering about some of the cliffhangers."
Truebies, any guesses as to what crazy Arlene will be up to next season?
Credit: HuffPost TV
Photo Credit: HBO