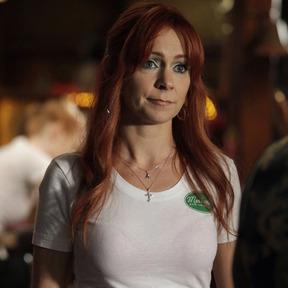 Recently, Carrie Preston (busty redhead, Arlene Fowler, on HBO's True Blood), was interviewed by Huffington Post's 'Naughty but Nice Rob.' The topic was nudity.
While Arlene has not nuded up as often as some of the other cast members, it turned out there is a reason for that:
"I wouldn't say no to it, but we have a little false advertising situation going on with me because they give me quite the bust line … It's called a hydraulic lift [laughs]. No, they have several layers of chicken cutlets and bras but my character is larger than life, so that makes sense."
Carrie went on to explain that she was the only 'enhanced' cast member, but was quick to point out that Alexander Skarsgård's butt is all his.  Aren't we all glad to hear that!
And what about the other constant in the show: blood? Well, that is actually made from colored syrup. And according to Preston, it tastes pretty darn good too!
Truebies, did any of you already know this secret?
Source: Huffington Post – Carrie Preston Talks Getting Naked on 'True Blood'
(Photo Credit: HBO, Inc.)