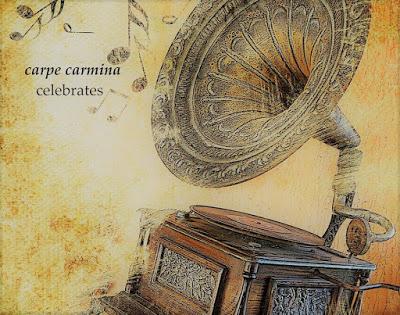 For music is a source of joy, it shall be cherished, it shall be celebrated. And that's exactly what is done on carpe carmina, with every word written, with every song raised (luckily enough not by yours truly). It's what has been happening over here for 6 years now which makes the celebration of music itself a worthy cause to celebrate, don't you agree?  ...
... Most certainly you do, which is why we should celebrate the celebration of music in concord, celebrate collectively with all those contributing to such a fine and moving form of art, celebrate with all those who champion it, with all those who carry it: the listeners, the reviewers, the readers, the spokesmen, the promoters, the fans, the radio hosts, the producers, the artists. For all we know, it's the imagination, the heartstrings of the last mentioned advocates of carpe carmina that are the fuel to, the inspiration for the emotions outpoured, for the poetry sparked and for the marvel flourishing on this creative outlet; they are indeed what ties it all together. They are the core of carpe carmina's being, they are the key to carpe carmina celebrates. 
So today carpe carmina celebrates together with Thomas James aka Luna Tides. Oh, what a glorious way to start this jauntily joyous party!
Back when carpe carmina turned 5 years old ...
... welsh music and movie maker Thomas James decided to end his band (ad)venture and commenced curating as well as cultivating the creative and conceptual mechanisms behind Luna Tides as a solo artist henceforth. Fully focused on combining the strengths of breathtaking imagery and audible artistry, the 23-year-old committed himself to making as many videos involving (his) music as possible which resulted in a plethora of scenic film sequences and intimate, insightful episodes about performing techniques and approaches to songwriting, which also led to those, of course, that feature him playing original songs and charmingly characteristic renditions of compositions from other singer/songwriters (if you wonder where to start catching up on his musical endeavours your go-to-song should be Thomas' cover of 'Minimum'). Last month then saw the ambitious all-rounder in the fine arts heading to Birmingham for Soundwaves Music Competition* whilst in the following months he's gonna treat our ears to a series of performances via YouTube, summed up under the illustrious name of 'One Mic Mondays'. Fortunately
– maybe fatefully even
– carpe carmina was offered to premiere the first entry of what will sure be a string of upscale signature sound-making-sets.
*update: Thomas managed to get past Stage 1 and competes in Stage 2 now with a live performance video of his solemnly soaring and soulfully vibrant single 'Young Laws'.  
Music well worth listening to ...
... as atmospherically rhythmic, nimble guitar play is accompanied by warmly evocative vocals. 'Wildfire' in its sonorously stripped-back version embodies arcadian mentality and pensive melodic momentum likewise. Complemented by an intro that not only shows how passionate but also how versed Thomas is when it comes to videography and athleticism, this contribution to carpe carmina celebrates truly captures the musician's disposition as an artist in all the creative fields he attends to.
Lets hear it from Thomas James ...
»carpe carmina, aka Nessi Holt, brings the charm, love and passion to the word 'music'
–
with beautifully captivating reviews, by discovering rare new songs and alluring listeners with inspiring playlists. carpe carmina deserves a melodic happy birthday from every single musician who's ever had the pleasure of being featured! Happy birthday and please, never stop doing what you do!«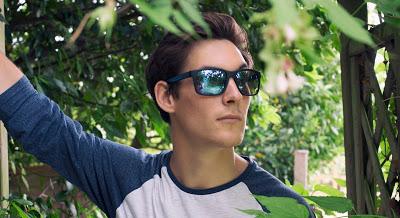 Reach out & listen to Luna Tides on ...
.. twitter ...
.. facebook ...
.. his official website ...
.. soundcloud ...
.. spotify ...
For new video content keep an eye on Thomas James'  YouTube channel.