There is no end in sight - welcome back to yet another episode of carmina suavia. Time to take delight in a charmingly colourful musical mix ...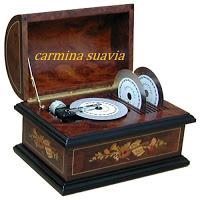 Sweet, sweet melodies floating in the air - are you really listening to the music we share? 
I: the premiere date 
May 24th 2016
II: the songs featured
01. The Mono LPs - Die A Little Death
02. The Swimmer - Tombstones
03. Rock Bottom Risers - Jeweller's Rouge
04. Violent Mae - In The Sun
05. Aztecs - Faith
06. Pleasure House - Why'd You Have 2 Go
07. The Pylons - Outside Inbetween
08. New Desert Blues - By The Lakes
09. Gary Roberts - Ice&Stone
10. Tom Mitchell - Changeover
11. Lowpines - No Hercules
12. SHOR - Feel
13. River Cars - And
14. Hannah Kewn - Tell Me Straight
15. Eleanor Nelly - Something's Got To Give
Intro
('
Love Collides
') and
outro
('
This Is Where It Ends
') provided by
Midnight Hour
's lead singer,
Brad Lodge
.
III: the reviews given (via twitter)
Time to let yourself in for gripping vocal bravado and sonorously dynamic instrumentals
Indulge in an excitingly hazy and hauntingly clangorous soundscape
Groovy melodics and confident vocal blues show 
Breezy

and

powerfully rhythmic melodic vivacity coupled with strong vocal allure
Smooth and shiny vocals surge through brisk and dreamy melodic waves
Youthful and spirited indie vibes meet perky vocal charisma 
Emotionally enchanting vocalism and blissfully rising, vigorous tonal vitality delight
Dulcet harmonies, glowing yet languorous melodies and soulful vocals
Inviting storytelling, vivid acoustic charm and stirring vocal glow carry away
Melodiously ethereal and atmospheric tonal narratives joined by warm vocal serenity
Mellow and mesmerizing melodies, yearning vocal expressivity
Dreamfully drifting and electrifying melodiousness interwoven with wistful vocal longing
Euphonious and brightly sparkling instrumental bliss, cozy vocal emotionality
Hypnotically alluring and vibrant tonality, gracefully sensitive vocalism
Absorbing vocal passion falls into line with vivifying and energetic acoustic vim
Check on the previous playlist (carmina charm No.) here.