You're still here? Well, good for you - as this new episode of carmina suavia includes a bunch of crackin' tunes, some to indulge in, some to sing along to at the top of your lungs and some to simply rock out t. So, what are you waiting for? Press play ...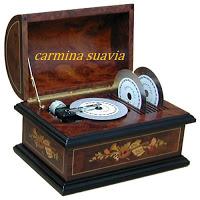 Sweet, sweet melodies floating in the air - are you really listening to the music we share? 
I: the premiere date 
May 10th 2016
II: the songs featured
01. The Haze - She's My Baby
02. Blossoms - Blow
03. Pleasure House - Wasted On Me
04. The Albino Peaches - Static Love
05. The Nursery - Hexes + Oh's
06. Trudy & The Romance - Baby I'm Blue
07. The Sherlocks - Last Night
08. The Box Tiger - The Hive
09. The Cairds - Landslide
10. Carbon - Bonfires
11.Mountainjam - Waiting
12. Red Light Revival - To My Door
13. Windmill - Birdman
14. Adam Wedd - He Laughs
15. Valley Shine - See You Soon
Intro
('
Love Collides
') and
outro
('
This Is Where It Ends
') provided by
Midnight Hour
's lead singer,
Brad Lodge
.
III: the reviews given (via twitter)
Groovy and gripping instrumental verve, bold vocal briskness 
A thrilling & moody sound, intense yet melodious vocal spirit
Powerfully driven instrumentals&ardent vocal charm rise in a hypnotic fashion
A tensely rhythmic and sonorous stomper of a song
Are you ready for a funky and vivace, eccentric musical adventure?
With a falsetto to die for, bluesy  and soulful, this song casts a spell on you
Infectiously clangorous and confident melodic momentum
Dreamfully alluring and spiritedly soaring at once
Harmoniously drifting and bright indie vibes
Brisk and boldly spellbinding vocal charisma meets blissfully vigorous melodies
Throaty vocal soul, a vividly driven and emotionally soaring soundscape
Soulfully absorbing vocal passion, a fervent melodic atmosphere
Haunting vocalism, dreamy, dulcet harmonies and a melodiously rich sound
Raspy vocal warmth allies with delightfully euphonious melodic longing
Charmingly uplifting, darling and glowing musical vividness
Check on the previous playlist (carmina charm No. 38) here.