One to treat your ears to: carmina suavia No. 38, out now and full of exciting and euphonious musical extravaganza. Enjoy and play it loud!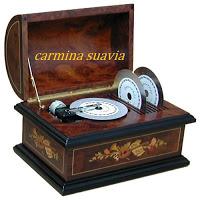 Sweet, sweet melodies floating in the air - are you really listening to the music we share? 
I: the premiere date 
April 26th 2016
II: the songs featured
01. The Black Tambourines - I Wanna Stay Away
02. Vita Bergen - Curtains
03. Hurdles - Dusk And Dawn
04. Seegulls - Reach Out
05. Moutainjam - Lemon And Lime
06. Grasscutter - Moon Dyes Red
07. Alistair James - Have You Ever Been Low (acoustic)
08. shamona - Fly
09. The Ragamuffins - I Just Got To Know
10. Dancing Years - Neon Lights
11. XamVolo - Rescue Me
12. Larkins - Let Your Hair Down
13. Seprona - Trap Door
14. Richard Bower - My Warrior And Me
15. Feed The Kid -Boat That Floats
Intro
('
Love Collides
') and
outro
('
This Is Where It Ends
') provided by
Midnight Hour
's lead singer,
Brad Lodge
.
III: the reviews given (via twitter)
A dynamically infectious

and

edgy music vibe, punkish vocal intensity
Bright and melodious vocal charisma, a spiritedly floating sound 
A harmoniously vibrant melodic pulse, smooth and catchy vocal clarity 
Thrilling guitar fuzz,breezy and jaunty melodies ally with perky vocal vigor
A fierce and energetic sound, a gripping and vivace vocal style  
Passionate guitar reverb, absorbing and charismatically throaty vocals 
Vividly blissful guitar finery, brisk vocals 
Stirring vocal vitality, vivifying and powerful harmonies
Playful and quirky melodic groove, peppy vocal expressivity
Melodiously driven, charmingly wistful and emotionally alluring music
A gracefully opulent and hauntingly ludic melodic atmosphere 
An electrifying, feisty and boldly vigorous indie vibe
An excitingly elusive and audaciously clangorous, confident sound
Heartfelt lyricism,sensitive vocal warmth,delicate acoustic charm 
Ardently rhythmic&atmospheric instrumentals, gritty vocal blues
Check on the previous playlist (carmina charm No. 37) here.