Welcome back to another episode of carmina suavia, as premiered and replayed on french radio Radio Kaos Caribou. Enjoy an eclectic mix of exciting indie tunes and don't be afraid to play it loud!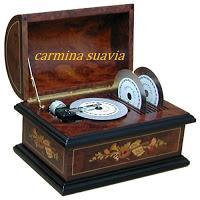 Sweet, sweet melodies floating in the air - are you really listening to the music we share? 
I: the premiere date 
April 12th 2016
II: the songs featured
01. The Jackobins - One More Chance
02. Where Fires Are - Your Brother
03. Polar States - Times
04. Elephant & Castle - Girl
05. The Proof - Gone
06. Lazy Eye  - Katie Jones
07. Club Paradise - Dreamer
08. Alex Charles - Little Elle
09. Colour - Nowhere
10. Safari Gold - Tide
11. Will Samson - Pyrton Bells
12. Noiiises - Light Came Back
13. Thom Byles - In Your Blood
14. Douglas Francis - Wolves & Blankets
15. Electroshock Therapy - Go Make Your Move
Intro ('Love Collides') and outro ('This Is Where It Ends') provided by Midnight Hour's lead singer, Brad Lodge. 
III: the reviews given (via twitter)
Be carried away by vivacious instrumental rhythm and infectious vocal intensity
Ardent vocal melodiousness, an energetically alluring soundscape
An excitingly swirling and dynamic instrumental setting, sensual and vibrant vocals
Passionate vocal blues meets glowing melodic vitality 
Playfully thrilling melodic momentum, gripping and bluesy vocal soul
A delightfully jaunty, catchy and harmoniously sunny musical ride 
Dreamfully drifting and harmoniously stirring acoustic appeal
Witty charm, expressive vocal vitality and groovy instrumental bliss pleases
Suspensefully surging, erratic and vibrantly electrifying melodic playfulness
Dulcet vocal smoothness is coupled with a dreamily floating and breezy sound
Hauntingly graceful and poignantly sensitive musical ease 
Tender vocal passion and shiny, soaring melodic ambience combined
A nimble and vivid acoustic guitar style, mellifluous vocalism
Soulfully spellbinding vocal charisma, a dulcet tonal levity 
Groovy vocal swagger meets excitingly intensifying, perkily driven instrumentals
Check on the previous playlist (carmina charm No. 36) here.