At the MET Gala, Carey Mulligan gleamed on the red carpet in her dazzling sequin dress but it was her wedding ring on the left finger that stole of the show as she flaunted it for the first time.
Carey made her debut public appearance at the annual Metropolitan Museum of Art Costume Institute Benefit in New York City after her wedding to Marcus Mumford. They got married in a secret wedding ceremony held in a converted barn on a Gloucestershire farm two weeks back.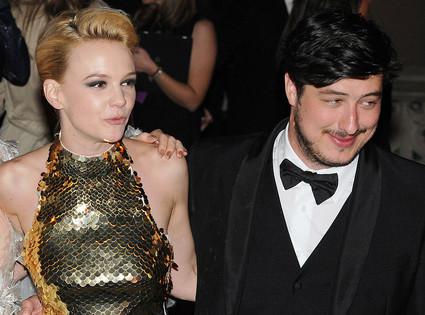 The British actress is still in the wedded bliss as the 26-year-old wore a beaming smile and looked more happy to pose for photos on the red carpet in a gold paillette Prada fishscale haltherneck dress.
She kept her accessories to minimum so as to give the first glimpse of her wedding ring along with her impressive show-stopping dress at the event.
The Pride & Prejudice actress was one of the first celebrities to arrive at the event as she was chosen to co-chair this year's Schiaparelli and Prada: Impossible Conversations event.
Speaking of her outfit choice on the red carpet, the Carey said: 'I'm really honoured to be wearing it.'
The dress made a good impression in itself without any additional glitz but her wedding ring certainly did add some charisma to the ensemble.
The golden band could be seen clearly on her left hand next to her giant engagement ring.
And she made no attempt to hide the ring.The gold wedding band perfectly complemented her diamond engagement ring.
The Drive actress and Award winning folk singer tied the knots on April 21 in the presence of their close friends and family.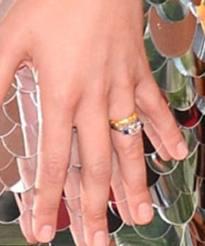 According to sources, their wedding took place in a romantic rustic-themed ceremony, where around 100 guests joined in including their celebrity pals Sienna Miller, Colin Firth and Jake Gyllenhaal.
Hollywood star Carey and Mumford & Sons member Marcus, who have been dating for just over an year, announced their engagement last July.
They had met at a Mumford & concert in Nashville last year before they started dating in March.
Also have a look at Angelina Jolie's Finest Diamond Engagement Ring From Brad Pitt