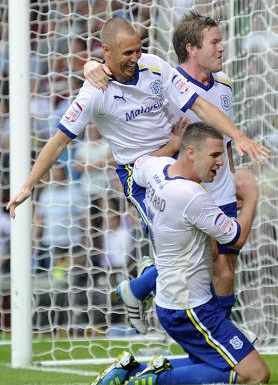 Miller celebrates his decisive goal 
Whilst Cardiff's 1-0 win at Upton Park against West Ham last Sunday was overshadowed by the events in Tottenham, crowd trouble of a different kind is aggravating Cardiff Fans. Arriva Trains Wales have decided to stop trains calling at Ninian Park station for Bluebirds' home games during a 3 hour period.
Arriva claim the decision was taken so as to "better suit the needs of passengers." Yet the Cardiff City Supporter's trust thinks differently, and has urged Arriva to reconsider the decision. The Arriva Chair, Tim Hartley said he does not believe there are capacity issues at Ninian Park station ahead of games because "supporters do not arrive in huge numbers at the same time". Hartley also added that there was a lack of consultation about the decision, which means fans will have to use Grangetown station, which is further away from the stadium, a good ten minute walk compared to the convenience of using Ninian Park.
Arriva said to those placing Bet365 Free Bets that the plans for the suspension of services to Ninian Park were made in conjuction with the British Transport Police, Cardiff City FC, South Wales Police and the Welsh Assembly Government.
In other news there has been no end in sight to the confrontation between the Football League and the news organisations that saw coverage of the first round of Championship matches being severely restricted in comparison with the start of last season Sports journalists from national titles, news and picture agencies were locked out of all but a handful of the 36 football league games after talks broke down last Wednesday between the Football league and a media coalition. Many, but not all, national newspapers dropped match reports over the weekend, with a number also dropping, or limiting, mentions of sponsors' names.
Many regional newspapers which take copy and pictures from news and picture services were also affected after the Press Association, a major supplier of sports content, last Friday that it would not be covering any Football League fixtures over the forthcoming weekend. Speaking of this weekend, it is time to look at Bookmakers Free Bets  and decide who you are backing for the win!