Indeed, there are tougher trucking jobs out there, but nothing can beat the challenges and difficulties of hauling cars. Undoubtedly, you can secure better jobs and follow smarter ways to live your life but if it is your passion which is pulling you towards car hauling, then you ought to go for it.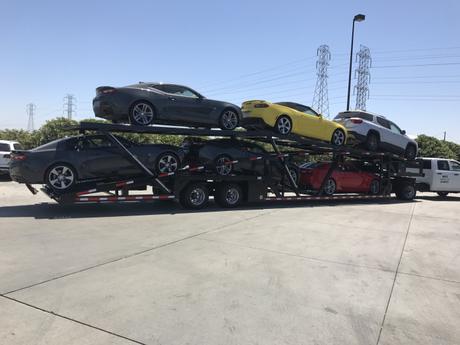 If you have made up your mind and are making serious efforts to opt for this occupation, then here are some points which you might want to consider:
You need the endurance of a distance runner as you will need to walk miles to find and retrieve all your cars from auction parking lots.
You need the strength of a beast to load a lot of vehicles.
When cars are loaded on the lower deck, it becomes tough to open doors. You will need the flexibility and slenderness to slip out of doors even if you can open it a few inches.
You need to be agile like a rabbit as you have to climb and go back down on a

car

trailer

, every now and then.
Having everything rough and sturdy is not enough. You need to have precise hands of a surgeon as you maneuver and load/unload vehicles worth $50k approximately. Those delicate hands come into action again when you adjust hydraulic decks as close as 3 inches above the roof of an expensive car.
During the loading of vehicles, you need to securely drive vehicles on narrow ramps and for that, you need confidence.
You need to be extra cautious while walking on top deck with cars loaded below. There have been accidents when drivers got crushed to death under loaded decks after failing of the hydraulics.
Positioning the decks is not an easy task. You need the ability to foresee the puzzle as you load the decks with cars. Each car has its own height and you have to go with the minimum space allowance for the top deck at the top of the highest car.
You have to be active to eliminate reluctance as issues might come up while on the road and you need to work promptly.
Coming to the driving part, it is way different than driving your fancy little two-seater which your daddy gifted you on birthday. Driving a trailer is an act of skill and experience. Controlling throttle considering the weight of the entire hauler and engaging emergency brakes when needed is not an easy task.
Company drivers can make between $60,000 to $80,000 depending on route. Most of the bigger companies transport new cars from manufacturers to dealers. There are other companies who specialize in transporting personally owned vehicles for people moving across the country. To drive for these companies, you might need to drive overnight and for extended periods.
You might be thinking, Gosh! It is a lot of work. Well indeed there is a lot you have to do and keep in mind. But then again, we all want to do what we really love to, don't we!