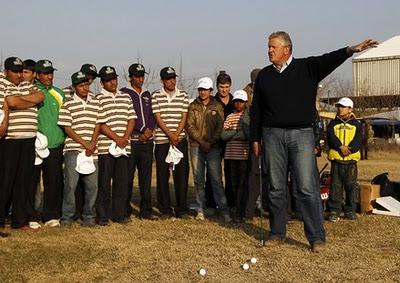 Picture shows Monty in jeans giving golf lessons to local Afghan soldiers.
With western troops slowly moving from a combat role to training local Afghan soldiers, who better to send in than Captain Monty?
Just in case they run out of bullets, with Monty's help they can always spray some Pro V1's at the Taliban.

Monty has also set-up some target practice utilising the football pitch at the International Security Assistance Forces HQ. Where hitting the goal posts earn you your stripes.

"These kids, they were born into war and grew up in war and it's been a very difficult," said Monty, adding he hoped that the Afghans might even qualify a golf team for the 2016 Olympics.

There are plenty of bunkers to practice in.
---------------------------------------------------