It was only when i tried typing "cappuccino" that i realized that i didn't know how to spell it. The word looks kinda odd, with the double "P"s and double "C"s.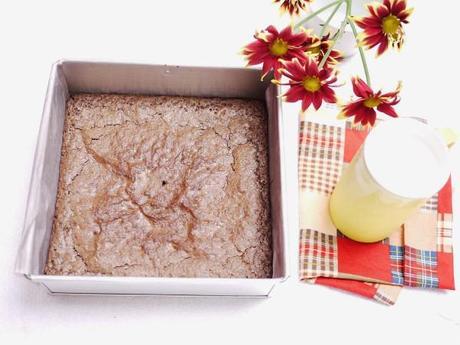 But that don't matter, cause this is a food blog, not a spell check.
So what about this brownies? Besides being a spell challenger?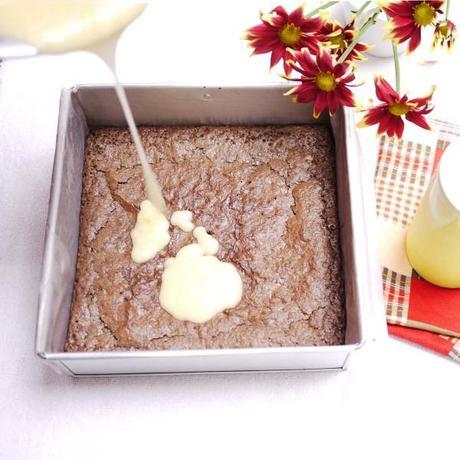 Well, for one, it is frosted with white chocolate ganache.
I don't know if u have noticed, but brownies, in their darkest and fudgiest glory, are usually served on its own.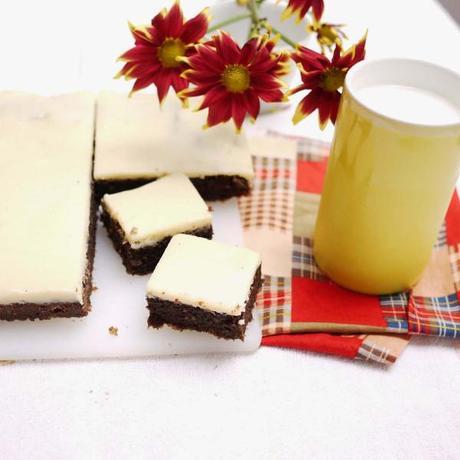 But this brownie is a step up from all the common brownies out there.
Also, let's not downplay the coffee in this, cause coffee powder in this brownie is a big winner and in my opinion, not optional. The coffee fragrance in this was strong, yet not overpowering, and it  gave another dimension, and a slight (very slight) bitterness to what could otherwise be a cloyingly and blandly sweet dessert.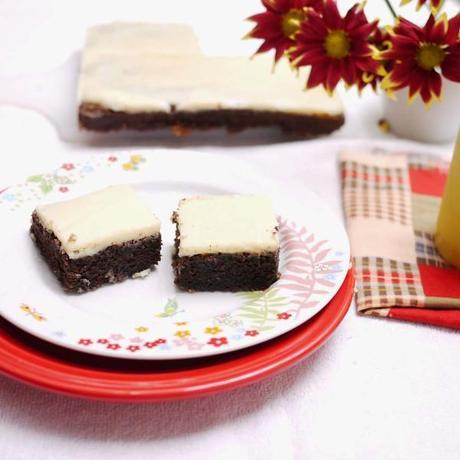 And not to mention the extra caffeine boost so much needed for a Monday morning such as today.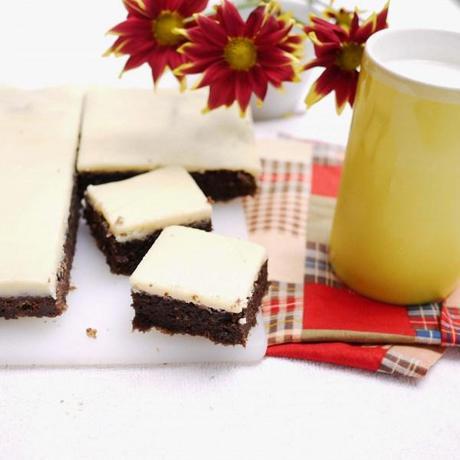 So if you find yourself dragging your feet to work, this might just be your solution

Cappuccino Brownies
Taken From Amandeleine
Brownies
Nonstick vegetable oil spray
1/2 cup (1 stick) unsalted butter, diced
3 ounces unsweetened chocolate, chopped
1 1/2 cups sugar
3 large eggs
2 tablespoon instant espresso powder
1 1/2 teaspoons vanilla extract
1/4 teaspoon salt
3/4 cup all purpose flour
White Chocolate Ganache
6 ounces high-quality white chocolate (such as Lindt or Perugina), chopped
5 tablespoons heavy whipping cream
1/4 teaspoon ground cinnamon
Directions
Brownies: Preheat oven to 325°F. Fold 16-inch-long piece of foil to 8×16-inch strip; place in 8x8x2-inch metal baking pan, leaving overhang on 2 sides. Repeat with another sheet of foil in opposite direction, lining pan completely. Spray foil with nonstick spray.
Stir butter and chocolate in heavy large saucepan over very low heat until chocolate is melted. Remove from heat; whisk in sugar, then eggs, 1 at a time. Whisk in espresso powder, vanilla, and salt; sift flour over and stir to blend well. Transfer batter to prepared pan.
Bake brownies until puffed and dry-looking and tester inserted into center comes out with some moist batter attached, about 35 minutes; cool completely in pan on rack.
Ganache: Place white chocolate in medium microwave-safe bowl. Bring cream to simmer in small saucepan. Pour cream over chocolate in bowl. Let stand 30 seconds, then stir until chocolate is melted and smooth. If necessary, microwave on low power in 10-second intervals until white chocolate is melted completely. Chill until ganache is thick but still slightly pourable, about 25 minutes.
Using foil as aid, lift brownies from pan. Turn over onto sheet of parchment paper; peel off foil.
Pour ganache onto center of brownies; spread to edges (some may drip over). Sprinkle with cinnamon. Chill until ganache is set, at least 2 hours. (Can be made 2 days ahead. Cover and keep chilled.)
Cut brownies into 4 strips. Cut each strip crosswise into 5 or 6 pieces, or cut each strip into 6 triangles.