Oh chums. Ohhhh my goodness do I have a crabby delight for you today. Let me start off by making a point of saying I'm not a huge seafood fan. I'll eat tuna and prawns and that's pretty much it – but this is amazing.
This is another Slimming World recipe that appeared in the June magazine so if you have that I'm sure you've already spotted this, but like the pizza topped chicken; this is another one that's too good not to share!

The original recipe included lemon zest and 2 tbsp of lemon juice, but I'm not a lemon fan so I left it out. You were also meant to add a handful of parsley but there was a distraction throughout the cooking process and I forgot…
100ml vegetable stock
1 red chilli – deseeded & chopped
3 tbsp dried garlic
250g dried capellini
300g canned shredded crab meat
Salt & pepper
(serves 2)

All you clever beans out there will know that after deseeding a chilli it's very important to wash your hands and not rub your eyes… my partner was having a 'dumb' day and rubbed both his eyes. After a lot of screaming, crying and sink flooding we finally realised that a shot of milk to the eye would fix everything…
After you've carefully deseeded and chopped your chillies, put them in a pan along with the stock and garlic, bring to the boil and then set aside.
I'd never heard of capellini until I saw this recipe and a quick search online revealed that my regular supermarket didn't stock the pasta, so instead I substituted the lesser spotted noodles for Sharwoods fine dried noodles – because they're basically the same thing from what I can tell.
Cook your chosen noodles according to the instructions, drain well and set aside. Then pour the chilli/stock mixture into the empty pasta pan, season and bring back to the boil. Now add your noodles and crab meat and toss gently over a medium heat so the crab can warm through and then you're done! You can either serve it as it is or serve with a fresh salad. If you can handle your spice I'd recommend adding a second chopped chilli to garnish, but one was more than enough for me – it was just on the verge of being too spicy.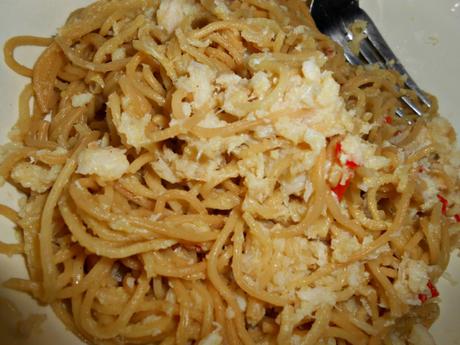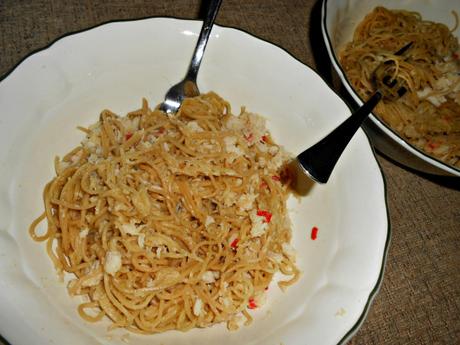 If it wasn't for the chilli fiasco the whole meal would have been ready in less than 20 minutes! We've only had it once and it's definitely one of our favorite meals already – we're really looking forward to having it again. The only downside is that the crab meat is a little more expensive than normal dinner components – it was £3< a can and I used two cans… I'd say it's worth it though!