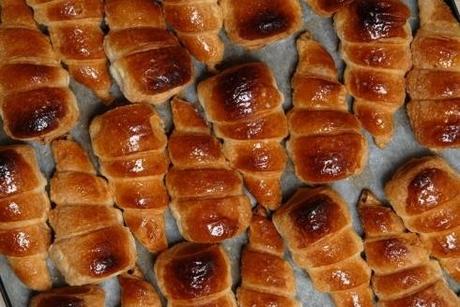 Unfortunately, today  I have seen a place that I should not even think remotely : a pastry shop. I'm now dramatically on a diet because my cholesterol level is high. Actually, my friends, I miss everything from pizza to pasta with a lot of olive oil and to desserts.

Have you ever noticed the wonderful perfume that comes from every pastry shop ? Maybe the fault is the  incredible hunger I have when I'm on diet? No, the perfume of the  sugar and of the freshly baked cake is always fantastic! In any case, I have gone into this pastry shop and I have bought a tray of cannoli : they are always a success in my home. I think even if  I cannot eat them ,someone will  enjoy them.

Do you know what exactly cannoncini are? 

I'm not talking about the Sicialian cannoli but about

cannoncini made with puff  pastry filled with pastry cream . Today you can find cannoncini also filled with chocolate cream or nutella (!!!).

Let  say that with a bit of fantasy you can fill then  with anything .

There are some salty  recipes , one – for example – is with  gorgonzola cream ( definitely a salty cream) .

In any case , my friends, we are talking about the classic cannocino filled with pastry cream.

Cannoncino  is one of the most requested  pastry by the Italians and  it is always a success. This weekend I decided that I will try to cook them at home . If I will  burn nothing  and I will  poison no one I will give you the recipe. Meanwhile what I can tell you? Enjoy these Italian pastries and eat one more cannoncino  even for me that I'm on a diet ... damn cholesterol !




Malauguratamente oggi sono passata di fronte ad un luogo che non dovrei neanche pensare lontanamente: una pasticceria. Sono drasticamente a dieta perché ho il colesterolo alto, ma amici miei, mi manca tutto: dalla pizza ai dolci alla pasta con quintali di olio. Avete mai fatto caso al profumo inebriante che esce da ogni pasticceria?

Dite che la colpa è forse della fame incredibile che mi viene quando sono a dieta? No, quel profumo di zucchero e torta appena sfornata c'è sempre! In ogni caso sono entrata ed ho comprato un vassoio di cannoli: a casa mia fanno sempre successo.

Il mio pensiero è: non potrò mangiarli io ma qualcuno ne potrà godere al mio posto. Avete esattamente presente cosa sono i cannoncini? Non sto parlando dei cannoli siciliani ma di cannoncini di sfoglia ripieni di  crema pasticciera

.

Per essere del tutto precisa oggi i cannoli li potete trovare anche ripieni di crema al cioccolato. Diciamo che mettendo un po' di fantasia si possono riempire con qualsiasi cosa.  Ci sono addirittura ricette che li vogliono salati e  ripieni di crema di gorgonzola.

In ogni caso, amici miei, fermiamoci ai miei cannocini classici ripieni di crema pasticcera.




Questo pasticcino è uno dei più richiesti dagli italiani e fa sempre successo. Questo week end ho deciso che proverò  a farli a casa. Se non brucio niente e non avveleno nessuno vi passo la ricetta. Per il momento che dirvi? Gustatevi questi pasticcini italiani e mangiatene uno in più anche per me che sono a dieta…maledetto colesterolo!