Free & Open Canadian LiDAR Data Sources
LiDAR (Light Detection and Ranging) is a remote sensing technology that many people consider to be relatively new (to find out more about about LiDAR including history, uses and the technology behind it ... click here). However the use of LiDAR in geomatics dates back to the 1980s when the deployment of Global Positioning Systems (GPS) combined with inertial measurement units (IMU) allowed precise positioning of aircraft, provided the ability for airborne LiDAR surveying.
So although it is not actually new technology it has recently become more common in geospatial related projects over the past few years.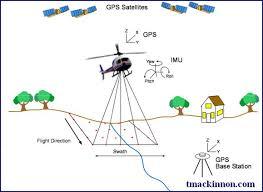 LiDAR data can be pretty expensive, therefore is often not available in most
open data catalogues
. However times are changing, thanks to continuous improved technology, combined with increased supply and demand from the geospatial user community, we are starting to see more and more LiDAR data sets made available to the general public.
Since starting our Open Data Resources list in 2010, we have received thousands of requests to help people find various Canadian data to use with their geospatial projects. And in that time have maintained an unofficial list of places where LiDAR data that is available (to use for free).
Today we are making our list available to our readers in the hopes that more people can make use if this data and that the geospatial community might help add more sources to it.
We plan to continue update this list as we learn about more data and hope that if anyone knows of other free LiDAR data sources that we have missed then they will let us know so we can make those sources available to others.
Note: There are several companies like Altalis in Alberta that maintain large LiDAR data libraries but are fee based, so we have not included them in the list below , however if you need information about them then feel free to contact us
[Updated: October 2019 - Originally Published 2016/05/15]