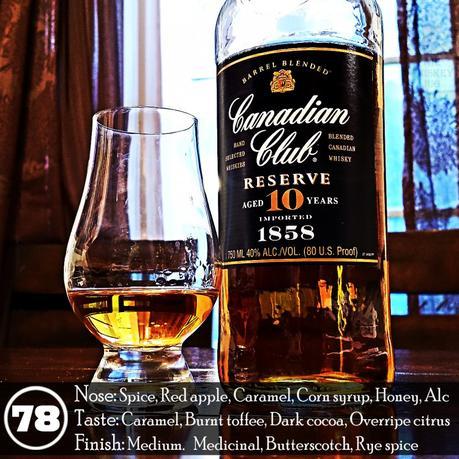 The Canadian Club Reserve 10 yr is actually not terrible. Which is a bit of a shocker to me because outside of Lot 40 and Stalk & Barrel I can't say I'm a big of a Canadian Whisky fan these days. It just doesn't seem to have the flavor and the oomph that I get out of even mid-level whiskeys from anywhere else and the flavors I do get are not always appealing.
To make the CC 10 the folks at Canadian Club start with the traditional Hiram Walker whiskey grain bill of rye, malted rye, corn and malted barley with about 30% going to both of the ryes. That distillate is then blended together with malt and corn distillates before barreling. Of that blend about 40% gets put into new oak barrels and the other 60% goes into re-charred Jim Beam barrels. Then, after 10 years of aging, the barrels are reunited and blended before bottling. So now the big question is… did all of that work pay off?
Canadian Club Reserve 10 yr. Info
Region: Ontario, Canada
Distiller: Hiram Walker and Sons
Cask: New charred oak & re-charred Jim Beam barrels
Age: 10 years
ABV: 43%
Price: $20
Canadian Club Reserve 10 yr. Review
EYE
Medium Caramel
NOSE
A unique and not all-together unpleasant spice that is filled with notes of cinnamon and nutmeg come out first followed by notes of red apple and watery caramel that almost tastes artificial. A corn syrup like sweetness runs through it like a thick backbone with lighter notes of honey, grain alcohol, mild citrus, dill and a dull astringency. Not my favorite, but not the worst either.
PALATE
The watery, bordering-on-artificial, caramel has moved up on the palate and it's accompanied by some lighter notes of burnt toffee, dark chocolate, overripe citrus, coffee grounds, ash, grain alcohol and a snap of ethanol at the end. There is a light and feathery note of something that can almost, but not quite, pass as rye spice drifting across the palate.
FINISH
Medicinal butterscotch punctuated by a pleasant rye spice, caramel syrup (that now fully tastes artificial) and just a hint of wood. Altogether not completely unpleasant, but far from my favorite.
BALANCE, BODY & FEEL
Reasonably well balanced without any one aspect completely overwhelming the whisky. A medium body with a mild bite and a slightly sticky, watered down syrup feel to it.
OVERALL
The Canadian Club Reserve 10 yr is… okay. I can't quite say it's good, but I also can't truly say that it's bad either. I feel like I just have to split the difference on this one and say that it's just okay. The caramel notes are a little watery and end up coming across as artificial by the end and the rye notes, while they are present, are just not as bold as this whisky needs them to be. It's no daily drinker, but it's great for making cocktails or if you're looking from something light to add some soda water, ice and lemon to.
SCORE: 78/100